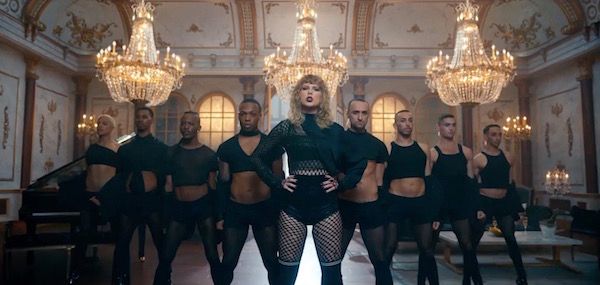 Taylor Swift dropped a sneak peek at the reinvention of her "Reputation."  And the internets are not here for the Crystal Light version of lemonade she's bringing.  Get into the shade inside....
Leave it to Taylor Swift to get all the praises because she did something so revolutionary....that wasn't actually revolutionary.
We all know the drill: When a blonde women does more than the bare minimum, America rejoices as if she just changed the whole game.  Even if she copies from a black woman certain folks in America love to hate.  Just ask Michelle Obama.
Taylor erased all her social media recently, which we all know means an artist is about to make an image change. 
The country turned pop chick then dropped this sneak peek for her upcoming music video "Look What You Made Me Do" off her new Reputation album.  She's premiering during the MTV VMAS this Sunday (all the shade to host and frenemy Katy Perry), but it's already causing drama.
Official #LWYMMDvideo world premiere.
Sunday 8/27 at the @vmaspic.twitter.com/tjAxr8qdsY

— Taylor Swift (@taylorswift13) August 25, 2017
It looks quite familiar to an actual revolutionary song and video that dropped within the last couple years: Beyonce's "Formation."
The internet took notice -- as well as noticed Taylor's shade to Kanye West and his whole fam.  Black Twitter is in rare form, and we're sopping it all up with a biscuit. Check it:
This looks like Lemonade: Crystal Light. https://t.co/x2l6MAZyt0

— ReBecca Theodore (@FilmFatale_NYC) August 25, 2017
"Okay ladies now let's gentrification." pic.twitter.com/B8xL0oxrKl

— Kar L. Stine (@karyewest) August 25, 2017
"Okay ladies now let's get imitating" https://t.co/atsxhYWIGC

— Olivia A. Cole (@RantingOwl) August 25, 2017
Love this shot from taylor swift's new album "Skim Milk" pic.twitter.com/ZWetb7OWcY

— Megan Amram (@meganamram) August 25, 2017
Black Twitter coming together to drag Taylor Swift this morning pic.twitter.com/FPYkT65bqA

— nicolas flamel (@toky0_martian) August 25, 2017
When he fuck me good I take his ass to Cracker Barrel. pic.twitter.com/y4x1m2cDRD

— Michael Arceneaux (@youngsinick) August 25, 2017
Teeheeee....