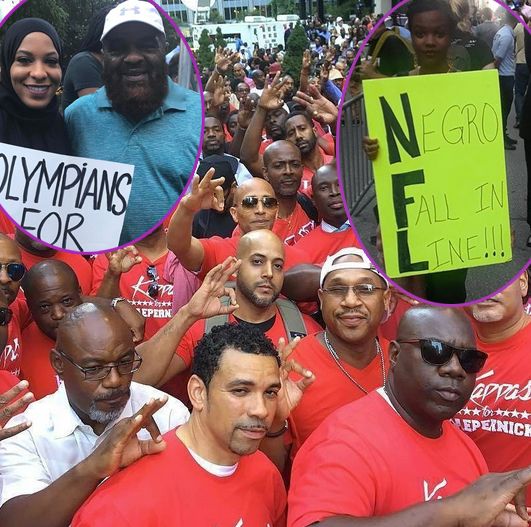 Hundreds of people took to the streets to protest outside of the NFL headquarters and urge Colin Kaepernick be signed before the start of the regular season. Meanwhile, baseball legend Hank Aaron comes to the former 49ers quarterback's defense. Get it all inside...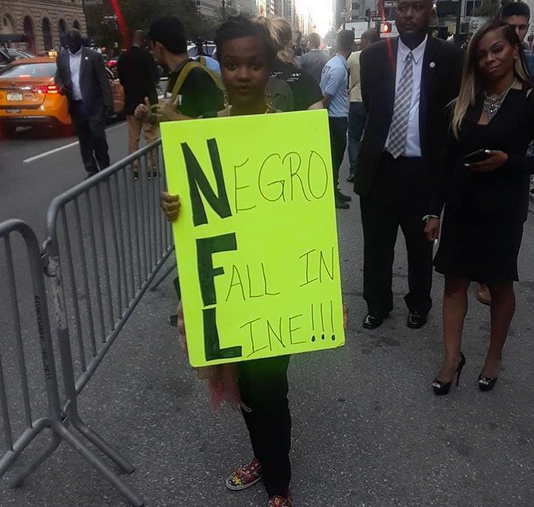 Colin Kaepernick took stand (or a knee) for racial injustices and police brutality against black people by taking a knee during the national anthem. Now, his supporters are taking a stand for him.
While the NFL commissioner himself can't "force" an owner to hire a player, it's naive to deny the commissioner's influence.  It's also interesting to note that the Player's Union could be taking a much larger stance.
As Jamal Bryant said during yesterday's rally:"The NFL is okay with you getting a concussion, but has a problem when you develop a conscience."
Yesterday, hundreds of people lined the streets outside of the NFL headquarters in NYC for the #UnitedWeStand rally, demanding Colin be signed by the start of the regular season next month.
Decked out in Kaepernick jerseys, more than 1,000 people (including members of Kappa Alpha Psi Fraternity, Inc. which Colin is also a member of) stood outside of the NFL's Manhattan offices in protest to support the former 49ers quarterback and they even threatened to boycott the organization.
Sam Whiteout caught up with activist Symone Sanders.
Olympian Ibtihaj Muhammad was in the mix with her dad, a former Newark police officer, to support #UnitedWeStand against injustice.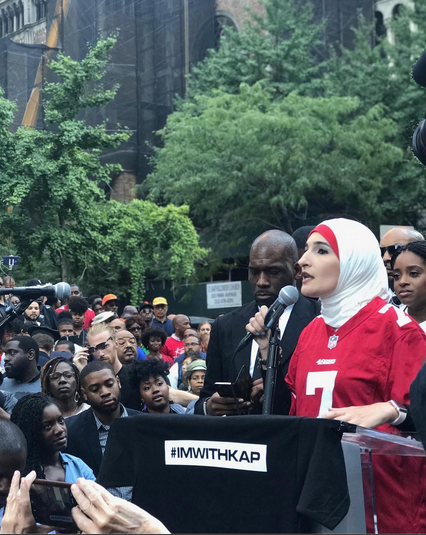 Civil rights activist Linda Sarsour stood alongside Pastor Jamal Bryant to speak before the crowd about racial and social injustice and explained why the protest was necessary.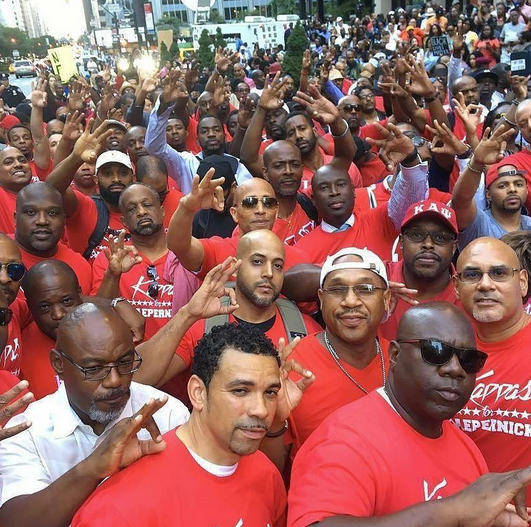 The men of Kappa Alpha Psi came out in droves to stand in solidarity for their fraternity brother.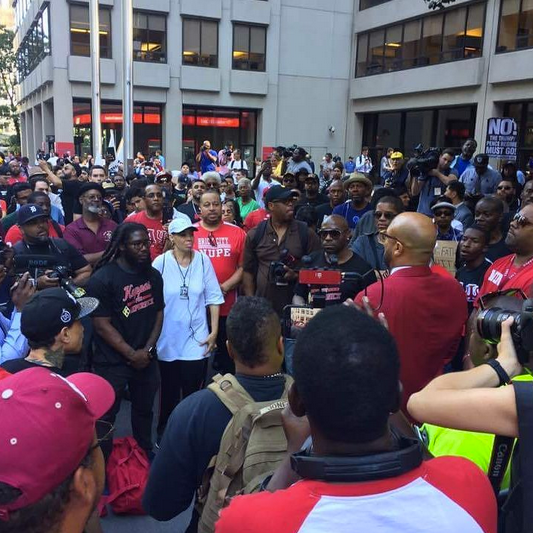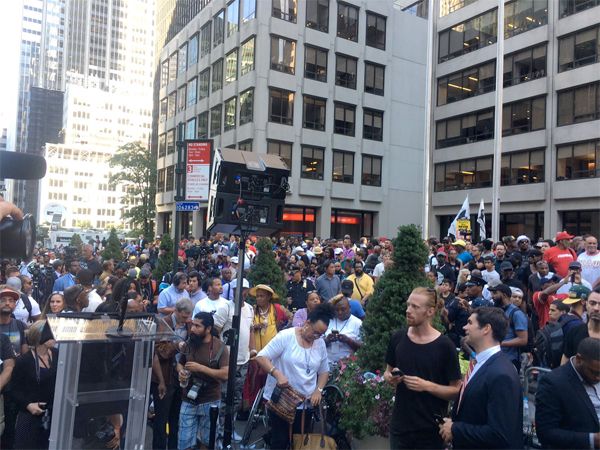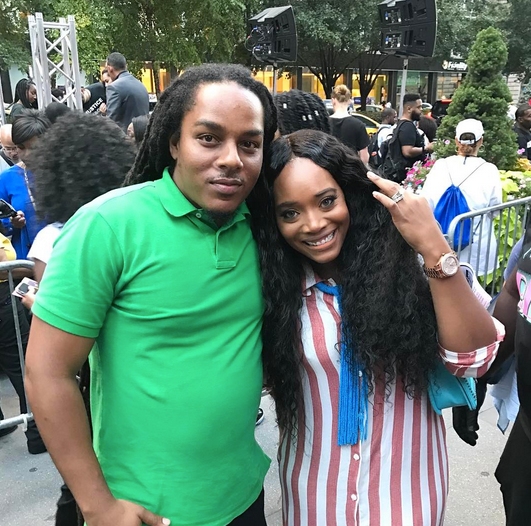 "Love & Hip Hop" star Yandy Smith was also spotted in the crowd to show support.
Check out videos of the rally below: 
Brothers of Kappa Alpha Psi, Colin Kaepernick's fraternity, spitting Invictus at the #UnitedWeStand rally earlier today. pic.twitter.com/kdFrtBJpVh

— Philip Lewis (@Phil_Lewis_) August 24, 2017
Power to the people!
Also standing in the gap...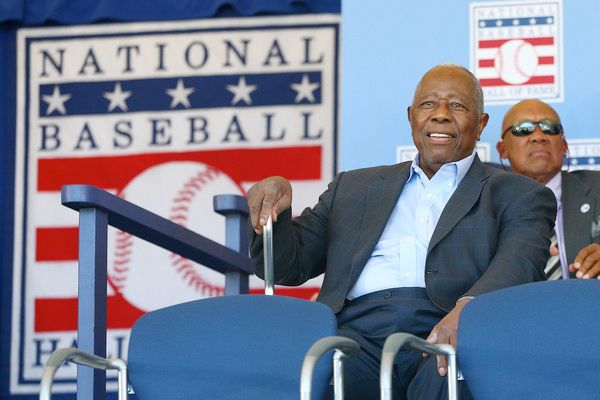 Baseball Hall of Famer Hank Aaron is weighing in on the unsigned Colin Kaepernick controversy and has announced he'll be boycotting the NFL this season.
The baseball great spoke with TVOne's Roland Martin where he said he wishes the NFL would give Kaepernick another chance and that he's upset with his fave NFL team, Baltimore Ravens, for not signing him.
"I think he's getting a raw deal," Mr. Aaron said. "I've been watching pro ball for a long time, and I think that if you look at all the quarterbacks in the league right now, he is one, two, three, four. I don't think anybody can do the things he could do. I wish somebody would open up and give him a chance to do his thing, and say, 'Hey, he's entitled to whatever he did, and let's forget about it.'"
He went on to say he wishes other NFL players will continue to stand with him and his message.
"I'd love to see other players stand with him. I would love that. I think it would give him some incentive. I think it would help him. I think the thing that bothers me about this whole situation is the fact that he has gone to all these camps, I suppose, and nobody seems to think he stands a chance of being No. 1 Here's a man, a young player that almost carried a team to a championship-to the Super Bowl. I remember that."
Peep a clip below:
A baseball legend shares his opinion on Colin Kaepernick...@rolandsmartin sat down with Hank Aaron. pic.twitter.com/4qLoNJlzE5

— Bob Ley (@BobLeyESPN) August 23, 2017
Just a few days ago, Cleveland Browns player Seth DeValve, who is white, joined a group of his black teammates who were kneeling during the national anthem. So far, he's the first and only white NFL player to do so.
Photos: @womensmarch/ @tmartinez87/@allmessiah/@nyakappas/@ lsarsour/@TheMitts/@NYJusticeLeague