Samuel L. Jackson and Magic Johnson are currently vacationing in Italy, but their presence has launched racist attacks online. More inside…
Samuel L Jackson and Magic Johnson have been living it up for the last week or so on their annual joint family vacation. But apparently, their presence is causing drama online with the locals.
We're not shocked. Racism is everywhere.
The two high-profile YBF stars were minding their business, shopping it up in in Forte dei Marmi. As they relaxed on a bench, they had their Prada and Louis Vuitton bags at their feet and that apparently rubbed some of the locals the wrong way.
The former NBA baller shared pictures on Twitter showing people coming up to them wanting to snap pics:
Sam & I chilling out on a bench yesterday in Forte dei Marmi, Italy. The fans started lining up to take pictures with us. pic.twitter.com/uzXx698PiN

— Earvin Magic Johnson (@MagicJohnson) August 16, 2017
But, those images were quickly shared around social media, with Italians assuming the YBF stars were "migrants" and they became outraged that they would go on an extravagant shopping trip with money from the state.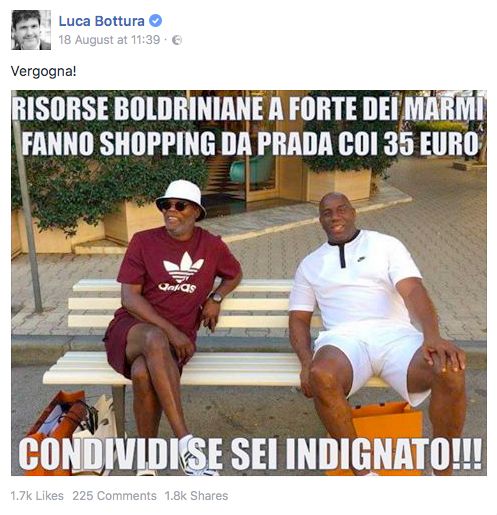 Another FB post reads, "Government funds at Forte dei Marmi…they go shopping at Prada with their daily allowance of 35 euros. Share this if you are indignant!"
The Independent UK reports:
Comic actor Luca Bottura utilised one of the pictures to make a meme and start a social experiment. He shared the image alongside the caption: "Boldrini's resources in Forte dei Marmi shop at Prada with our €35. Share this picture if you are outraged."

The image was then widely shared on social media, with Italians assuming the pair were "migrants" and becoming outraged they had chosen to embark on an extravagant shopping spree with money from the state.

This was a reference to Laura Boldrini, President of the Chamber of Deputies of Italy, who has drawn fierce criticism for her progressive open migration policy.

The image quickly went viral but many wholly misunderstood Bottura's intentions and instead expressed their "disgust" and "shame" at the two star's extravagant shopping spree. Critics referred to the 35 euros paid by Italian citizens for accommodating refugees on EU quotas while venting their frustrations.

Nina Moric, an Italian model who is originally Croatian, voiced her anger about Jackson and Johnson, saying seeing migrants misusing "our 35 Euros" was "too much."
Anyone surprised? We surely aren't.
Photos: Magic's Twitter