It's official! Malia Obama has officially moved on the Harvard University campus. And she got some help from her parents, Barack and Michelle Obama. Peep pics of the former First Family getting ready for college inside…
Malia Obama has officially kicked off her college experience after taking a year long break since graduating high school. It was time well spent off as she nabbedseveral kick a** internships.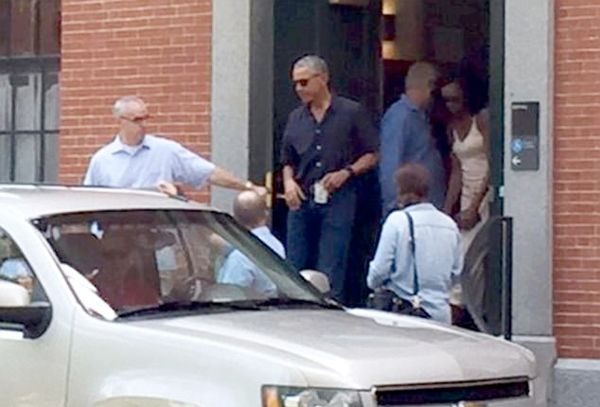 Malia Obama check into Harvard dorm. pic.twitter.com/GneGwzoVOT

— Crystal Johnson (@Crystal1Johnson) August 23, 2017

Malia Obama headed to Harvard University's campus on Tuesday pic.twitter.com/kYrHNanQs8

— MEFeater Magazine (@mefeater) August 23, 2017
On Monday, the eldest Obama girl moved her things into her dorm at Harvard University one day before starting the fall semester. And she received some help from her parents, Barack and Michelle Obama.
POTUS & FLOTUS returned to their old stomping grounds where they both attended Harvard Law School.
And, as expected, it was an emotional goodbye for the First Couple to send their first daughter off to college.  Reportedly they were sen wiping their eyes. Peep a clip below:
Can we talk about Michelle's super cute beach waves though? Slay #foreverfirstlady!
Since moving in, Malia is getting to know her classmates and explore the Cambridge, Mass. area with her friends.  She was spotted grabbing lunch as well.
As expected, students are losing their minds that the former First Daughter will be trekking through campus on a daily:
MALIA OBAMA IS MOVING INTO HER DORM LIKE 30 YARDS FROM MINE AS IM TYPING THIS AKBEJXJEJE

— Lactaid (@KyleD477) August 21, 2017
y'all i'm like 20 ft away from malia obama in the dining hall wowwwwww i'm shook

— crooked daniel (@primadonnagvrl) August 22, 2017
We wish her a successful first year!
Photos: DailyMail.com