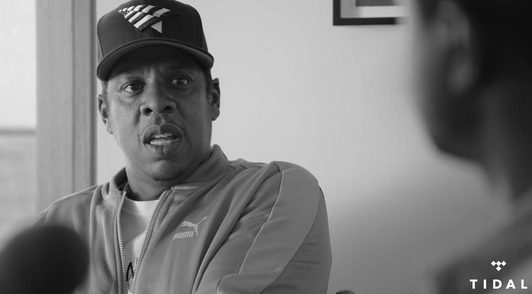 Jay Z opens up like never before in a rare interview about his beef with Kanye West, what really went down in the elevator with Solange and how he and Beyonce worked through their marriage issues. Get into it inside…
We don't get a Jay Z interview often, so this is a treat.
The Hip Hop mogul sat down with Rap Radar Podcast hosts Elliott Wilson and Brian "B.Dot" Miller to give one of his most candid interviews yet. Hov dug deep and shared intimate details about his high-profile relationships with his "little brother" Kanye West, his wife Beyonce and his sister-in-law Solange.
The interview centered around his therapeutic 4:44 album where he opened up about marriage issues with Beyonce and his strained relationship with Kanye West. The lyrics on the "Kill Jay Z" track sounded like a diss aimed at Ye, but Hov said it wasn't even about him. It was more about himself.
"It's not even about Kanye," he said. "It really isn't. It's just his name is there, right? Because it's just honest, it's truthful, what happened. But I'm saying, the whole point is, you got hurt because this guy was talking about you on a stage but what really hurt me was, you can't bring my kids and my wife into it. Kanye's my little brother. He's talked about me a hundred times. He made a song called 'Big Brother.' We've gotten past bigger issues. But you brought my family into it and now it's a problem with me. Now, it's a real, real problem."
He continued:
"He knows it's a problem because me and him would have been talked about it, we would have been resolved our issue, but he knows he crossed the line. I know him. He knows. Not only does he have to know, I know he knows because we never let this much space go between one of our disagreements and we've had many. That's part of who we are. That's what I like about him. He's an honest person. He's open and he'll say things and he's wrong a lot of times but we'll confront it. But that's not the point. The point is, I was getting to the point where I said, 'You got hurt by that.' That's nothing. You can't diss somebody saying you got hurt. That's the softest diss of all time. 'You got hurt 'cause you did cool by 'Ye.' I dissed myself, actually. What are you talking about, you sucka-ass ni**a? That's the softest sh*t of all time."
Touching on his beef with Ye, Hov said the thing that got him the most upset about Yeezy's on stage rants was that he brought his child (Blue Ivy) in it. He said Ye could have said anything he wanted about him, but he brought Blue and Beyonce in the mix, that pissed him off.
"Don't talk about anyone's kid onstage," he said. "It's too much energy. You give room for anybody to comment. Our children are already in this place where they are affected by our celebrity. Don't go doing something that allows people to pit us against each other and talk about my child or even his child. Don't do that."
He admitted he went too far revealing that gave Kanye $20 million, but he doesn't regret saying it. Nothing was off the table for this album.
So will he and Ye ever squash their beef?
"It requires a real conversation and we'll have it," he admitted. "We'll have it soon. I'm sure we'll have it."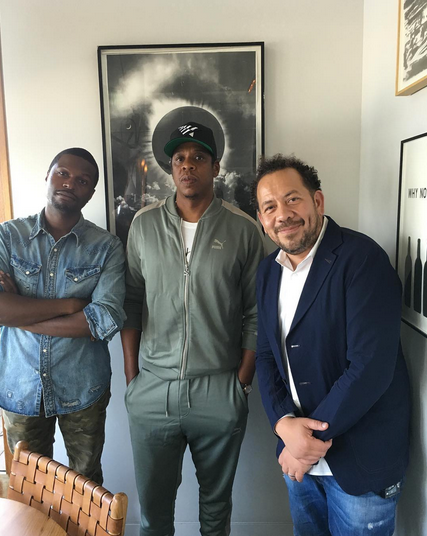 When Bey dropped her LEMONADE album, she touched on infidelity in their relationship. Hov seemingly responds on his album as well. Jay said people give up to early when things go wrong in their relationship.
"We were working on our shit and becoming tight and super real with each other," he said. "That sh*t didn't mean nothing. It's hard, of course. It's difficult to go through, but the real sh*t…I was there the whole time, the tour, the making of the album, it was therapeutic. It was good. It's good to deal with your sh*t. It's so worth it."
As for his relationship with his sister-in-law Solange, he said they are great after the elevator fight that stopped the world. That's his sister and that'll never change.
"I fought my brothers and argued with my brothers my whole life. It just so happens, who we are, these things go into a different space, but it ain't nothing. We've had one disagreement ever. Before and after, we've been cool. She's like my sister. I will protect her. That's my sister. Not my sister-in-law. My sister."
On the album, Hov revealed he was in therapy, helping to destigmatize mental health. He said therapy has increased his life, but he wasn't feeling it at first. He got over that, but when he saw the movie Get Out, he started feeling some type of way.
"The lady was giving me tea and sh*t," he joked. "That's why when I saw Get Out I was like oh shit she got me fucked up. She was giving me tea and she rang a little bell at the end. Dead serious. And I always left there feeling separated. I don't think I was ready for that level of getting to know yourself."
Hov also touched on the self hate in the black community with the "crabs in a barrel" mentality. He said black people are quick to hate on another black person who's trying to build their empire but will embrace others. Peep a clip below:
Check out the full interview below: 
Last night...
The 47-year-old businessman was spotted leaving The Chiltern Firehouse in London.
Photos: Splash/Rap Radar's IG