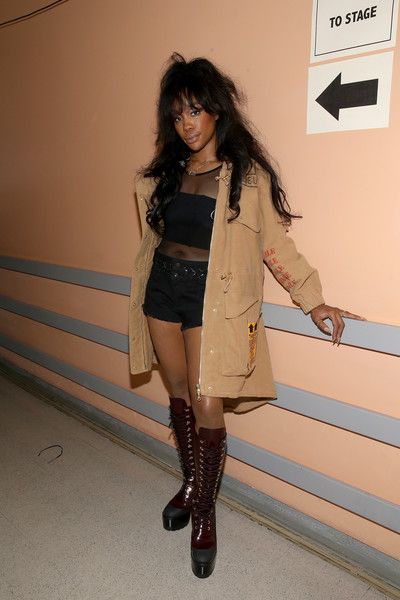 SZA just updated her fans about her last minute concert date cancellations, but the rumor mill is still spinning with a totally different explanation...
Our fave unapologetic YBF chick of the moment is kicking off her CTRL tour stateside, but it's had a rocky start.
SZA cancelled her D.C. show last night just hours before it was supposed to start, and tongues started wagging.  Especially when multiple other dates were cancelled as well.
The "Weekend" singer took to her Instagram to inform fans she was in the hospital, but she's been cleared to keep the party going this Sunday:
Rumors around the net claimed the hospitalization had something to do with her mental health state, especially since she's been quite open about her personal issues with confidence and anxiety and the like.
She seemed to catch wind of what folks were saying, and cleared up what's really going on.  She chalked it up to allergies, and said only 3 dates have been postponed, not the whole tour:
Lmao literally smacking anyone who repeats this . We moved 3 dates n will be promptly Shaking ass Sunday thank u ! https://t.co/I0PdWTnF7v

— SZA (@sza) August 19, 2017
Me and @dangerookipawaa already talked about doing free stuff to make sure everyone gets included and has a positive experience!Don't trip https://t.co/i9kU2p7Hkj

— SZA (@sza) August 19, 2017
I got tested for em all at the same time and it made me violently ill lol https://t.co/InoRJANRlF

— SZA (@sza) August 18, 2017
1. I didn't postpone the tour . I rescheduled 3 days outta like 100 ! lol my body tried to play me but I beat it's ass n im back n ready! https://t.co/QEpMv5cqvg

— SZA (@sza) August 18, 2017
Me @ my own body pic.twitter.com/fYHKXTIAQI

— SZA (@sza) August 18, 2017
Get better soon SZA!
Photos: Getty/Instagram