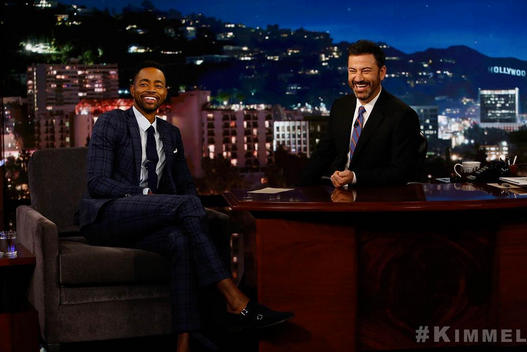 Jay Ellis takes over late night television to dish on that awkward a** "Insecure" threesome that aired last week. More inside…
Jay Ellis' "Insecure" character Lawrence thought he was the man when he bagged two thirsty white chicks for some threesome action. Well, they actually bagged him at the grocery store. Either way, he was happy as hell when he realized he was about to get some action...double the fun. The thing is, it didn't turn out like he had planned after he couldn't please the second chick. Bloop.
It was awkward to watch, so imagine how it was shooting the scene. Ha!
Jay Ellis stopped by "Jimmy Kimmel Live!" where he explained just how awkward it was shooting those scenes. For goodness sake, he had one chick straddling his face! And he said it took like 7 hours to get it right. Sheesh!
Peep the clip below:
Later, he talked about being an intern for the Portland TrailBlazers during a time when the players were involved in all type of drama.
Check it:
Catch a new episode of "Insecure" this Sunday at 10:30pm on HBO.
Photos: Jay's IG