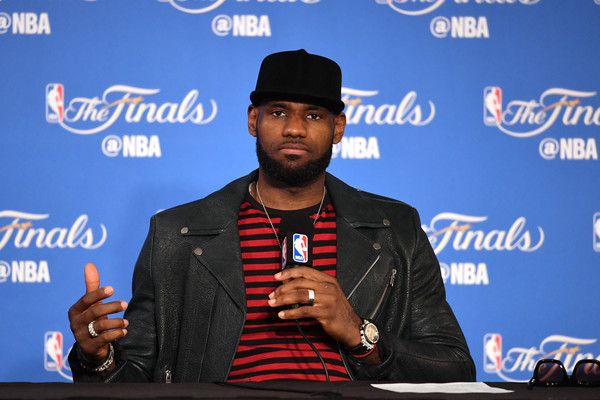 We said 3 years ago that LeBron James going back to Cleveland after owner Dan Gilbert never PUBLICLY apologized for that disgusting slave-like letter was a questionable move. Dan's latest move may have just cost the team their star for good.....
Yesterday, a report surfaced from Bleacher Report's senior writer Ric Bucher saying Cavs owner Dan Gilbert donated three quarters of a million dollars to Trump's inauguration.
Worth noting in light of LeBron's remarks about this president: Cavs' owner Dan Gilbert reportedly donated $750,000 to his inauguration.

— Ric Bucher (@RicBucher) August 16, 2017
That nugget of info was unveiled after LeBron -- once again -- made it very clear he is NOT a fan of #45. The NBA Champ tweeted throughout the weekend about how horribly this Administration handled the white supremacists gathering in Charlottesville:
It's sad what's going on in Charlottesville. Is this the direction our country is heading? Make America Great Again huh?! He said that

— LeBron James (@KingJames) August 12, 2017
Our youth deserves better!! Flat out

— LeBron James (@KingJames) August 12, 2017
Hate has always existed in America. Yes we know that but Donald Trump just made it fashionable again! Statues has nothing to do with us now!

— LeBron James (@KingJames) August 15, 2017
LeBron has been outspoken about his disdain for Trump's MAGA ways since election season. So it should have come as no surprise to Dan Gilbert - who Bron already has a strained relationship with - that his star player would have an issue with him publicly supporting Trump.
Fast forward to a new report saying LeBron is ready to leave Cleveland...ASAP. Veteran sports writer Chris Sheridan broke the news today saying Bron is definitely leaving after this season, and it's totally because of Dan Gilbert and co.:
NBA source said today: "This will be LeBron's final season in Cleveland. He is 100 percent leaving. Relationship with owners beyond repair."

— Chris Sheridan (@sheridanhoops) August 16, 2017
The Twitter world is siding with Bron in droves:
Dan Gilbert has his letter ready.

— Jammel Cutler (@JCut_NBA) August 16, 2017
Lebron leaving Cleveland because Dan Gilbert supported Trump is completely believable. People are getting divorced over this election

— Doug Gottlieb (@GottliebShow) August 16, 2017
We really shouldn't be shocked that the Dan Gilbert/LeBron relationship went south quickly. Never thought he'd go back after that letter.

— YoungPepDash (@YoungPepDash) August 16, 2017
Don't get me wrong, Dan Gilbert has every right to support who he wants and LeBron has every right to tell Dan to go fuck himself...AGAIN.

— J. (@BarackOBoogie) August 16, 2017
Dan Gilbert might be the worst owner in the NBA you literally pushed LeBron away twice and he brought that trash franchise a ring

— BBB Todd (@704Toddd) August 16, 2017
Wow. LeBron leaving Cleveland because Dan Gilbert's 750K donation to Trump. Gotta respect LeBron for always being bigger than basketball

— Andrew Bradley (@Andrew8Bradley) August 16, 2017
LeBron despises Trump.
Dan Gilbert donation of $750,000 for Trump's campaign
It's all coming together now or should I say falling apart now

— Kellkill (@kellkill1) August 16, 2017
Dan Gilbert drafting the LeBron letter part 2. pic.twitter.com/rzdLCKWTew

— Xamdi (@Hamdi_1993) August 16, 2017
But there's always those "fans" (and owners) who don't actually give two sh*ts about these players as human beings. They care about rings. And we hope players around the league take note and never forget that:
LeBron has always said "it's bigger than basketball."
Too bad Dan Gilbert didn't take him seriously.
Photos: Twitter/Getty