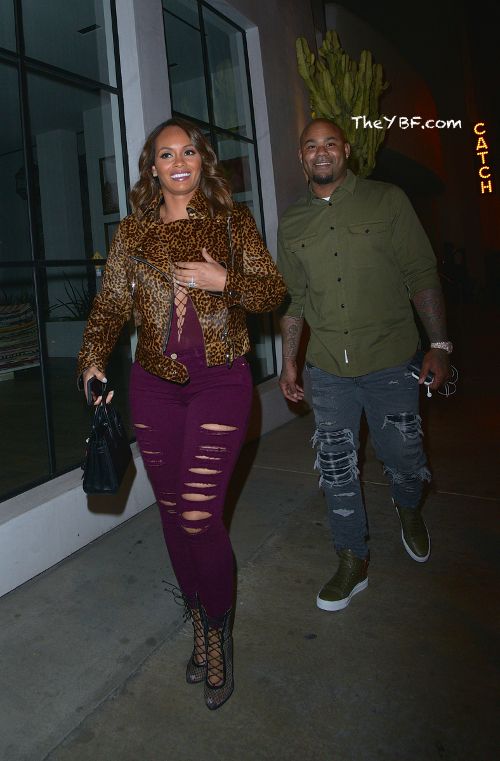 Despite Evelyn Lozada going public about her and fiance Carl Crawford calling off their engagement, it seemingly wasn't the whole story.  Details inside...
Reality star Evelyn Lozada and her MLB baller fiance Carl Crawford are over and done with, Ev and her rep both confirm.  Ev said today that "the two split back in February after Evelyn became suspicious of Carl's fidelity."  
Interestingly, our source who was close to the couple tells us she's lying.  They actually split a year ago.
We posted rumors of a split before this February as well, last November to be exact.  The couple rarely, if ever, gets captured by paparazzi cameras.  But they were snapped (above) conveniently around the same time the rumors started swirling.
Was Ev trying to save face?  Was her now cancelled OWN network reality show "Living Lozada" that Carl sometimes made an appearance on at stake?  It's possible. 
Carl also wasn't too keen on having a second baby, we're told.  Evelyn did suffer a miscarriage, which she talked about on her shows, after having their now 3-year-old son Leo.  All the doctor visits about the options she now has with her eggs, though, could have been for a made up storyline to get back on "Basketball Wives".
Evelyn also made it seem like everything was all good between her and Carl when people asked about their relationship on this season of "BBW."  We're told, though, that once he didn't move forward with their December 2014 wedding date, it was clear their relationship wasn't going anywhere.
As for Evelyn's infidelity accusations, we're told she's not lying about that.  But she apparently has been aware of Carl's alleged cheating, which has supposedly been happening since the beginning.  He didhave a 5-month old with another baby's mother when Evelyn was 6 months pregnant.  The crossover potential with those two relationships alone is quite high.  So it'll be tough to play the victim fiancé card where fidelity is concerned.
Another reason Ev may not want to push the envelope with bashing Carl publicly: He's still a resident of Texas, a state that doesn't make it easy for mothers to get super hefty child support. We hear his lawyers are topnotch, and if Carl's pushed far enough, that wouldn't be a good thing for the person fighting to get his money. So...good luck with that Ev.
We're told Carl has been living in Houston basically all year, while Ev was back in their (well, his) Arizona home now that filming is done.  She seems to be acting quite unbothered today on social media, posting up hot pics from Snapchat and poolside:
Photos: Splash/Instagram