STARZ isn't playing any games! They're looking for the person who leaked three episodes of "Power" and they're taking legal action. Meanwhile, Mariah Carey's former chreographer/creative director Anthony Burrell is spilling hot tea about Mimi's recent lackluster performances. Get it all inside...
If you're like us, you've probably deleted a few of your social media friends who dropped spoilers on their timelines. Just ruin it for everyone why don't you!
If you haven't heard, the few remaining episodes of the hit STARZ series "Power" leaked recently and a slew of folks ran to social media to air out what went down. No worries, we won't spoil it for you.
Now, STARZ is lawyering up to seek legal action on whoever leaked episodes from the fourth season that's currently airing. Not only that, they've ripped down their media room as they look for the culprit(s). Apparently, that's how the seasons were leaked - a media entity with access gave out their password, someone put the episodes on their tv, then recorded them from another device.
"The final three episodes of Power's fourth season were leaked online due to a breach of the press screening room," said Starz in a statement Wednesday. "This seems to be a case of password sharing that resulted in homemade videos of the episodes which were taped off a TV screen and posted online. Starz has begun forensic investigations and will take legal action against the responsible parties."
It shouldn't be too hard for the network to pinpoint who exactly leaked the episodes. The "genius" recorded the episodes from a phone and then uploaded them to their personal social media handles.
In other news...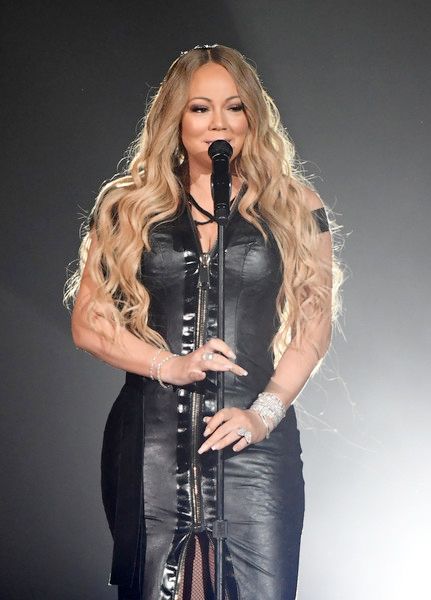 Mariah Carey's former choreographer/creative director Anthony Burrell is spilling TEA!
After Mimi's tragic Dick Clark New Year's Eve performance, the Grammy Award winning singer fired Anthony. Now, he's speaking out on why Mariah's recent performances have been less than stellar.
No, Mariah isn't poppin' and lockin' like Beyonce when she hits the stage, but she would at least throw in some choreography with her shows. Lately, she has seemed less than interested when it comes to performing and videos have popped up on social media showing her doing the absolute least.
Check it:
"It's just typical Mariah," Anthony Burrell told Complex UK."Mariah is clear: when she doesn't wanna do something, she doesn't do it. She's performing with lackluster and no f*cks given, and it's taking away her star."
Anthony said when he worked with Mariah he did his best to try and make her as comfortable as possible with the choreography since she's a singer first.
"Working with an artist like Mariah, who's not a mover first, it's always a challenge to get them to think physically and not just vocally," he revealed. "You always have to keep in mind that they're a singer first. The priority is not teaching them 100 counts of 8, or endless routines. I wanted to give Mariah a modern push to revamp her, give her a fresher, more modern feel, make her more aware of her body and her lines, and not look like her feet hurt when she's walking."
"You're a legend," Anthony continued. "But you don't care, your team doesn't care. They're not guiding and directing her. She's back to where she was before. It's not like she's never looked this bad before; I just stepped her game up."
If that's not the best usage of backhanded shade, we don't know what is.
He went on to say that Mariah's team isn't experienced enough to handle a megastar like her, and it showed.
"It felt like they were so new at their jobs, and had no direction," he said. "When you're green, you're playing things by trial and error, and there were a lot of errors. I was very vocal about things that weren't right. When you try to take a shortcut and you don't know the clues, you're bound to get fucked up or screwed, because you don't have the experience of running a tour or a billion-dollar empire. Some of the dancers her team hired are great dancers, but they're not choreographers or creative directors."
It was only a matter of time before Mariah's feisty manager Stella Bulochnikov addressed Anthony's comments. Here's what she told TooFab:
"Why don't you come watch MC perform to sold out crowds three times a week for yourself and see what you think instead of giving a former disgruntled employee's bitter comments life."
So, is this a case of a bitter ex-employee, or do you think he's telling the truth? Sound off in the comments!
Photos: STARZ/Getty