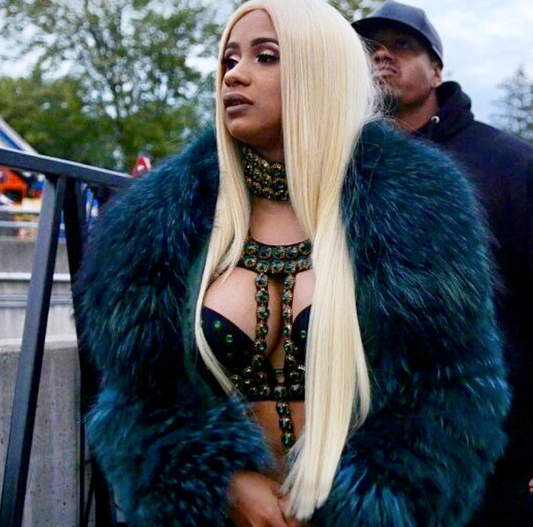 Cardi B is poppin' off on Twitter after an old transphobic video and several old tweets where she calls black women roaches have come to surface. Get the latest inside…
Cardi B is glowing up right now as her track "Bodak Yellow" climbs the music charts and her love life with Migos rapper Offset continues to bloom. But, as we all know, when life is good, folks will come for your happiness.
Folks have been digging through the former "Love & Hip Hop" star's Twitter timeline and shared a few things she likely didn't want to see the light of day again. 
In a resurfaced the video, Cardi talks about how she'll seek revenge on a cheating lover. She said she would get her man drunk, have a threesome, and "let a tranny rape him."
Peep the clip:
"If my man cheat on me. I'ma get him drunk and let a tranny rape him" pic.twitter.com/NyUseDKzL3

— (avatarcmoney) (@bitchrunmyfade_) August 9, 2017
Well, Twitter is big mad at her today about it all, seeing that the word "tranny" is a slur and joking about involving an LGBT member in a rape is No Bueno. Check it: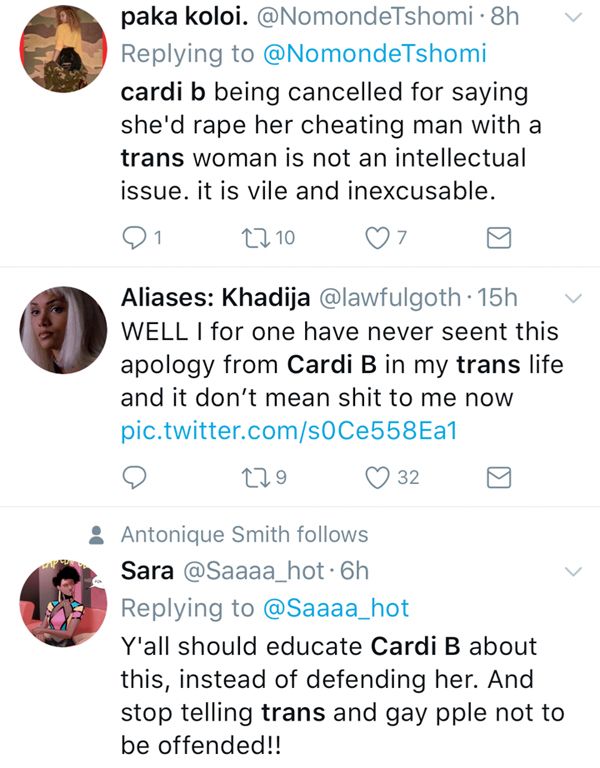 Well it's official Cardi b is cancelled. It was fun while it lasted. pic.twitter.com/XcISPs8DYQ

— Y U MAD (@MLNS_23) August 10, 2017
Knew you'd delete that pic.twitter.com/Sjs9DWlSQs

— Jumah (@WokeMutant) August 10, 2017
That's not the only reason Twitter is dragging her today. A Twitter user compiled a thread of tweets where Trinidadian/Dominican Cardi calls several black women "roaches".  Many believe she reserves that insult for dark skinned black women:
@LeshellJ FIX THAT DUSTY ASS WEAVE & grow your edges then talk to me UGLY LOOKING LIKE A FUCKING ROACH !! pic.twitter.com/YeB4oZ2Yub

— iamcardib (@iamcardib) December 8, 2016
Your pussy smell like turtle food .You flying looking roach

— iamcardib (@iamcardib) November 29, 2016
Why is your old roach having in your house ass keep talking shit go take care of your kids bitch https://t.co/J3KmeMcQSk

— iamcardib (@iamcardib) November 29, 2016
Check out the full thread here.
Cardi isn't one to hold her tongue, so she has been popping back at everyone who's dragging her on social media. She said she uses the word "roach" to describe anyone (not just black women) and that she used the word tranny before she knew it was derogatory:
I called myself a roach it's a word tha I use a lot .Your WHITE ASS IS THE ONE WHO USING AS A RACE SHIT SO STFU pic.twitter.com/KzwevqZWP8

— iamcardib (@iamcardib) August 10, 2017
does cardi b not know about screenshots , deleting the tweet doesn't do shit pic.twitter.com/lm0uhOfAgz

— ُ (@myouiseoks) August 9, 2017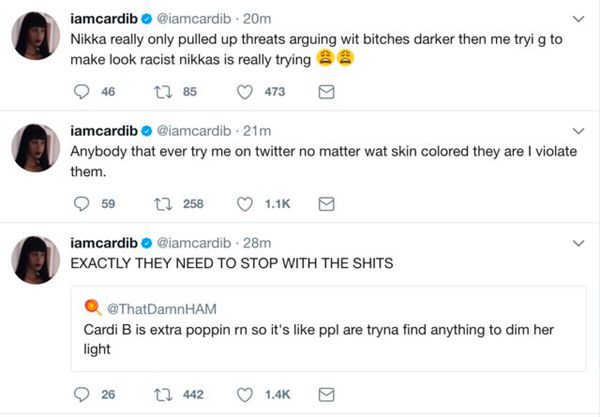 I don't bother with these hoes don't let these hoes bother me ..Don't let that shit go over ya head tho

— iamcardib (@iamcardib) August 10, 2017
She also said she apologized for that video a year ago.
While Twitter users continue to drag her, some of her fans are backing her up as well:
cardi b never said she was your feminist/black/queer icon. she never wore it. she said she was a stripper from BX who don't wanna dance.

— Myles E. Johnson (@hausmuva) August 10, 2017
Cardi B cancelled but y'all still eating chick-fil-a. Still riding Uber. Still drinking Pepsi. I need everyone to take a breathe tonight pic.twitter.com/NrP1hU6ukW

— George M Johnson (@IamGMJohnson) August 10, 2017
Y'all cancelling Cardi B but still bumping R. Kelly?
Still out here being TERFs?
Still ain't checking your friends that are anti Lgbtq?
Ok.

— George M Johnson (@IamGMJohnson) August 10, 2017
The price of fame...
Photo: @ iamjenniferle