The NFL and its toxic white privilege has folks like…whet?! The Miami Dolphins needed a quarterback ,and instead of offering Colin Kaepernick the job (or even giving him a try out), theywent an unexpected route. Get those deets, plus find out about Master P's co-ed basketball league inside….
The NFL is something else!
Apparently, you can be accused of assaulting a woman, raping a woman and killing someone and still be offered a 2nd chance in the NFL. Yet, if you practice your American RIGHT to protest in the name of something you believe in, you get black balled.
Last year, Colin Kaepernick made a bold move when he decided to kneel during the National Anthem. This year, he's looking for a job. Why? Because the "powers that be" don't like when a black man has a voice and uses his platform for the greater good.
The Miami Dolphins were in need of a quarterback for the upcoming season after Ryan Tannehill's ACL injury. So, what do they do? They start looking in the retirement pool to see who can fill the job. Hello, Colin is still unemployed!
Apparently, Miami Dolphins head coach Adam Gase is Jay Cutler's old coach.  To  them, it makes "sense." Well, several others don't think so.
Here's what's floating around on Twitter:
ESPN: "Is Jay Cutler better than Colin Kaepernick"

— Teflon Tom (@T_Sharp4) August 4, 2017
"Colin Kaepernick or Jay Cutler?"

Dolphins: pic.twitter.com/QWwHfOtsXT

— Legends (@LegendsofCH) August 6, 2017
Politics aside, Colin Kaepernick > Jay Cutler.

— Terry Blount (@TBlountSports) August 5, 2017
#JayCutler, one of the worst teammates in the NFL gets another gig, while #ColinKaepernick is still unemployed. #Telling

— John Pavlovitz (@johnpavlovitz) August 6, 2017
Jay Cutler really got a job before Colin Kaepernick? The NFL on good bullshit, that's like passing on a Corvette for a fucking Suzuki...

— Chico Bean (@chicoBean) August 7, 2017
ESPN's "First Take" commentator Stephen A. Smith had plenty to say about the NFL blackballing the 34-year-old player. He said the signing of Jay Cutler to the Dolphins is the epitome of white privilege:
Agreed.
In the wake of Colin still not having a job as training camp kicks off, a new Change.org petition has been launched, vowing to BOYCOTT the 2017 NFL season if the former San Francisco 49ers quarterback isn't picked up by a team. You can add your name to the list by clicking HERE.
Despite the NFL's non support, rapper J. Cole is standing behind him: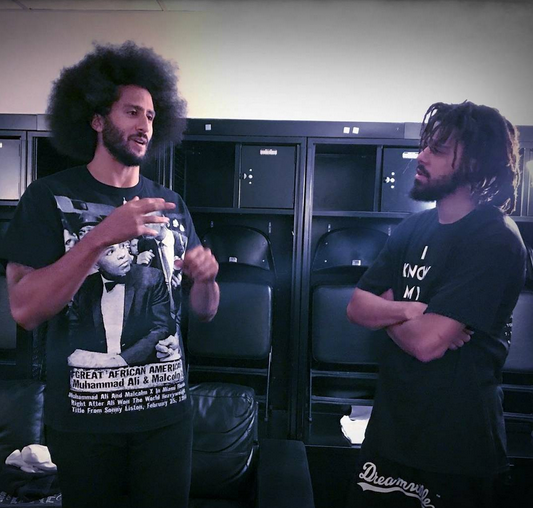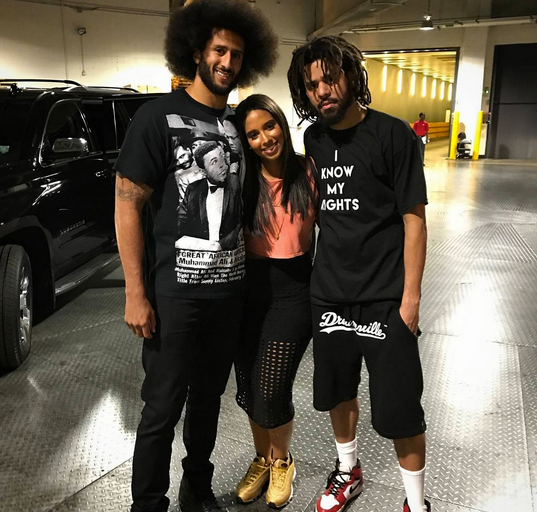 Colin and his girlfriend/HOT 97 personality Nessa linked up with Cole backstage at one of his recet 4 Your Eyez Only tour stops. And as you can see, J. Cole was rocking Colin's "I Know My Rights" t-shirt.
Thoughts on how the NFL is treating Colin in the aftermath of the protest?
By the way, Spike Lee says that ad floating around for a Kaepernick rally, with Kap's name misspelled, is not his doing:
In basketball news...
Master P is gearing up to bring a new basketball league to sports fans.
The Hip Hop mogul has been named president of a new professional basketball league for men and women, announced as GMGB (Global Mixed Gender Basetball).
P's first order of business? Sign former football player LaVar Ball, the father on L.A. Lakers player/rookie Lonzo Ball.
"I want to get LaVar Ball into the league. I want to see how good he really is," P told photogs.
He also said he's looking to sign WNBA star Lisa Leslie and recently retired NBA baller Paul Pierce. Yes, this is a real thing.
P noted the league is all about giving woman an opportunity to play against men on a professional level.
Watch out Ice Cube! That 3-on-3 League isn't the only new kid on the sports block.
Photos: Colin's IG