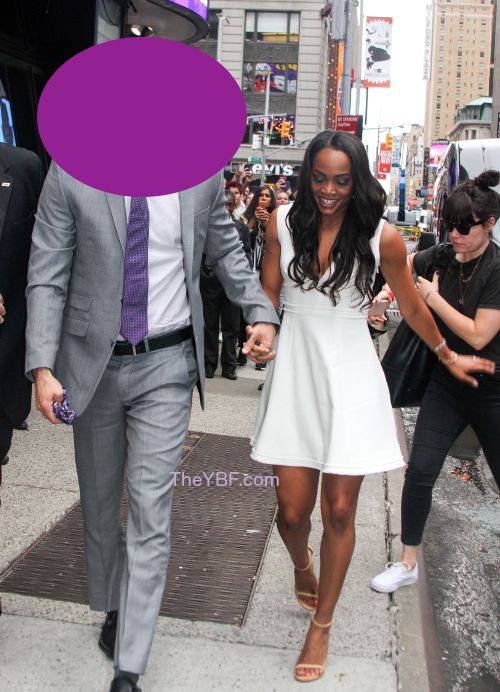 Rachel Lindsay chose her man on last night's "Bachelorette" finale.  And we're like Rachel....sis....
See her explanation about why she made the choice she did, how she feels about her interracial relationship, and more inside...
Meet the future Mr. & Mrs. Abasolo!
Rachel Lindsay handed out her final (and also her first earlier in the season) rose to Miami chiropractor Bryan Abasol last night on the "Bachelorette".  It took most people by surprise, including us, esp. after she literally cried her eyelashes off while trying to work things out with hottie Peter Kraus.
Bryan always struck us as being in love with love and reality tv more than he was in love with Rachel.  They were both definitely in lust, though.
Rachel told him several times at the beginning he seemed to be too much of a charmer and too good to be true.  Even Rachel's mother and fam called him out for laying it on way too thick during the home visits. 
She probably should have listened to her mom and 'em.
Peter couldn't find it in his heart to give her a GENUINE proposal not knowing if he's actually ready for marriage with her.  Rachel couldn't find it in her heart to leave this show with just a boyfriend.  They were at an impasse, and Peter basically told her he didn't want to lose her.  But, he didn't convince her about why she should stay and risk her time and energy for the possibility of marriage either.
Chick should have said No to all of them and went home single, TBH.  But Rachel wanted a ring, and a ring she got.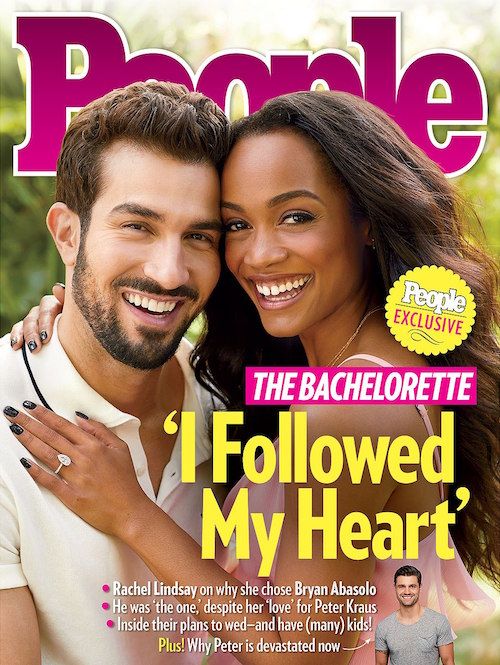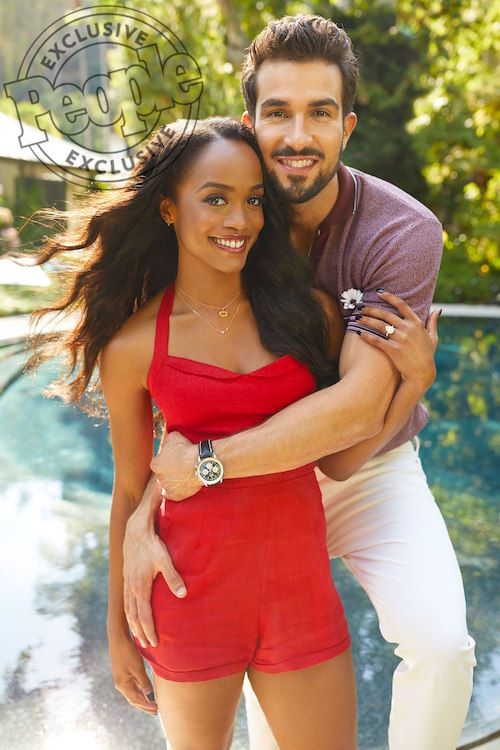 Rachel and Bryan unveiled their People magazine cover during last night's 3 hour finale. 
Last night and this morning, the engaged couple hit the talk show circuit to convince folks they really are in love.
Ok sis.
She looked stunning at last night's finale, where we couldn't help but notice the sparks that are still flying between her and Peter.
The couple also chatted up The Bachelor Insider about how they got here:
Rachel, the first black lead of the Bachelor/Bachelorette franchise, told People about the pressures of picking a black man as her significant other vs. embarking on an interracial relationship:
"I knew that people would be watching myself in this role for the first time, and there would be people who were positive and people who were negative, and I would feel pressure from certain audiences that would say you 'had to pick a black man.' And then I would have other audiences that didn't care about that," Lindsay shares.
She continued:
"But for me, before I said yes to being the Bachelorette I had to get over [it]. I had to realize that not everyone was going to be for me when it came to the decisions that I make. Not everyone was going to be happy about my decisions, but I needed to be selfish in this journey and find the one who was perfect for me," Lindsay explains. "I couldn't make a decision based on anyone else because I'm the one who's going to have to live with it."
She said she couldn't pick a mate ased on how they looked:
"I'm not going to pick somebody because they look a certain way. I could've done that without doing the show. I really put my all in this because I was trying to find that one for me. I was trying to find my person — the person who I want to spend the rest of my life with — and I can't let color dictate that," says Lindsay. "

"I can't be blindsided by the fact that I have to choose this person because they look the same way that I do. That's not fair. That's not what love is about. That doesn't define love. It's not my definition of love," she continues. "My definition of love is sitting right next to me. So it was really important for me to not do that. Everything else was background noise and I was just zeroed in on finding that person for me."
Bryan, who is Colombian, chimed in:
"Honestly, we don't even think about it or talk about it. I mean, we're just a man and a woman in love. We just want to enjoy life," Abasolo shares. "I just think we're two mature adults, that we can handle anything moving forward. Communication is a big key."
Hmph.
Rachel and Bryan also hit up "Kimmel" last night and "GMA" and "Live with Kelly & Ryan" this morning for some fun and to talk about wedding plans *they haven't started planning):
Congrats to the couple!