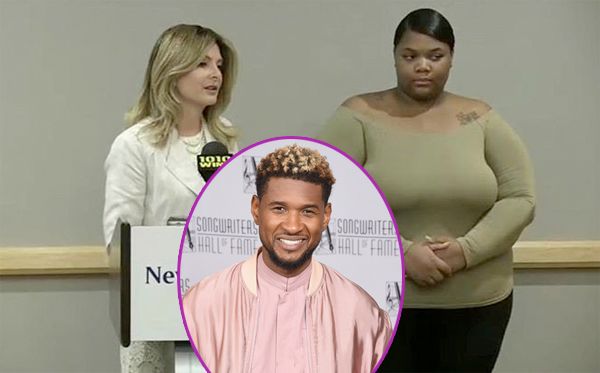 Yet another woman has come forward with a lawsuit against Usher with accusations that he exposed her to herpes. And the Internet losing its mind. More inside…
Another day, another alleged Usher victim.
Another woman has come forward with accusations that Usher exposed her to genital herpes after having sex with her.  It seems like ever since that first case where Usher settled a suit by giving $1M to a woman claiming he gave her Herpes, folks are coming out the woodwork with similar claims.
As we told you before, four more people have come forward.  One is suing for several million.  Three more people are unleashing lawsuits and are also being represented by Lisa Bloom.
Quantasia Sharpton did a media conference with Lisa (who's one of the alleged victims who have come forward) by her side this morning to explain how she and Usher linked up for sex.
She claims she went to his concert to celebrate her 19th birthday (two years ago and before she had a baby) when Usher's security picked her out of the crowd to meet Ursh. She said a bodyguard asked for her number to give to the "Let It Burn" singer because he was interested. After the show, the R&B crooner called her up, he came to her hotel room and they ended up having sex.
The woman claims she got tested for herpes upon hearing about the previous claims, but the results came back negative. However, she's upset the singer didn't tell her he had the disease and "feels violated." Therefore, she's suing.
Check it:
Attorney Bloom went on to say that she has been contacted by several other people and they too may be coming out with lawsuits. We know one of the women Bloom is representing has reportedly tested positive for herpes and she is rumored to have been a bridesmaid in his wedding to his ex-wife Tameka Foster. It's also reported a man has come forward as well.
TMZ reports:
Usher allegedly had vaginal sex with at least one of the 2 women who are suing him for failing to disclose he has genital herpes, and he had oral sex with a male who is also suing him ... this according to a new lawsuit.

According to the suit, obtained by TMZ, all 3 plaintiffs allegedly had sex with Usher, "because Raymond [Usher] was a revered celebrity in their eyes who they believed could be loved and trusted."

The lawsuit claims Usher never told them about a herpes diagnosis. It's important to note, the lawsuit is based on news reports that Usher is carrying the STD and that he settled a herpes lawsuit for $1.1 million a few years back.

The suit claims the 2 women and the man have all suffered severe emotional distress, depression and anxiety. It also says they have experienced embarrassment, shame, anxiety and revulsion.
Peep the clip below:
It has yet to be confirmed if Usher has tested positive for herpes. He has yet to respond to any of the allegations outside of a settement, but one lawsuit maintains his doctor confirmed to her people that he does have the infection.
Bloom says one of the things she wants is a court order forcing Usher to reveal to his future sex partners that he has an STD.  Again, his health status has not been confirmed.
Meanwhile...the Internet is losing its sh*t over the woman's appearance. Here's what's folks are saying: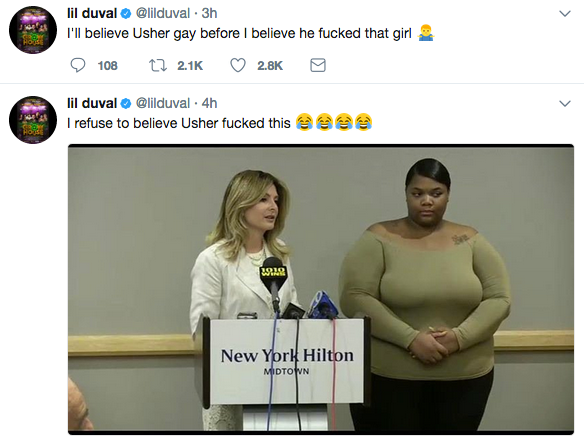 This Chick 300 + Lbs Talkin About Usher Chose Her Out The Crowd And Smashed... pic.twitter.com/csjrkuCYNc

— White Tyson (@MillerHieLife) August 7, 2017
When everybody saw the woman who is suing Usher for supposedly giving her herpes. pic.twitter.com/ZAz6zu63kJ

— KOSHER (@JRAN_76) August 7, 2017
are y'all really saying y'all dont believe usher's accuser because the girl is big? that's disgusting pic.twitter.com/kRTzsdayOa

— prince (@dngerousprince) August 7, 2017
Usher been into big girls for a while y'all better believe it pic.twitter.com/1NNQmJ8LqG

— Jeff (@JayJazzi) August 7, 2017
But nt so fst.  Before your start berating a woman's looks, sex often times has nothing to do with looks, celebrity status or not.  And beauty is subjective. These folks provided a proper reading in response: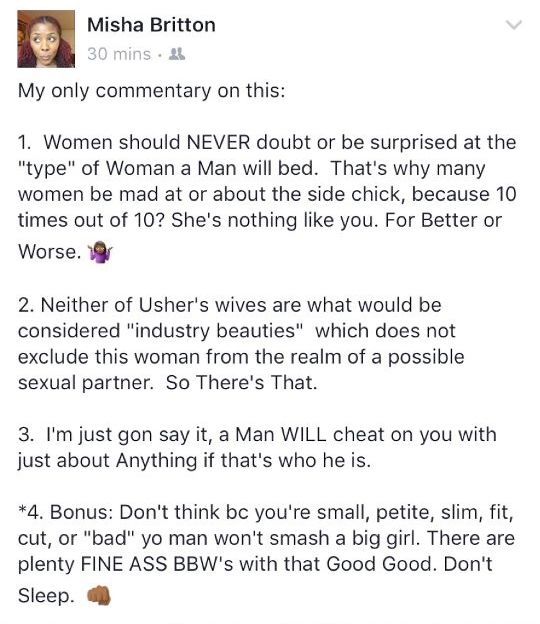 Thoughts?
Photos: Getty/Screenshot