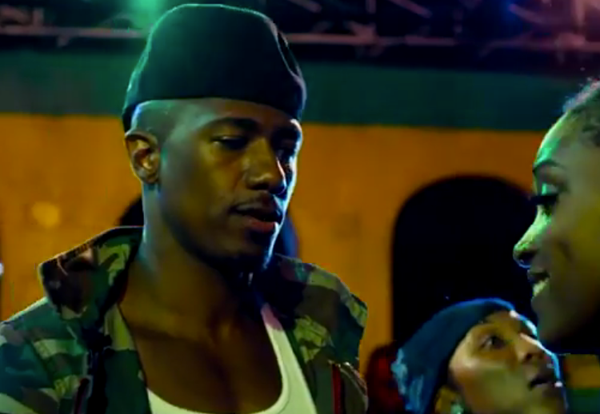 Get ready to bust a move with Nick Cannon for his new King of the Dancehall film and decide if you're here for a "TRL" reboot with DC Young Fly when you go inside….
Nick Cannon is ready to prove he's the King of the Dancehall…in his new film, of course.
The media mogul wrote, directed and executive produced "King of the Dancehall" which is now available for viewing on YouTube Red. The former "AGT" host plays Tarzan, a guy who moves from Brooklyn to Jamaica. He falls in love with a girl and the dance scene on the island.
Soon after, he learns his mother (played by Whoopi Goldberg) needs money for an operation, so he enters a dance-off where he could win $10 million. Rapper Busta Rhymes also stars in the film.
Check out the trailer below:
King of the Dancehall is currently streaming on YouTube Red. If you don't have a subscription, you can sign up for their free one-month trial to check it out.
Speaking of the man who never sleeps...
The 36-year-old entertainer just nabbed a new hosting gig. He'll helm the upcoming "Lip Sync Battle" spinoff, "Lip Sync Battle Shorties," alongside social media star JoJo Siwa.
The 10-episode series will feature kids lip-syncing pop songs by their favorite artists. Cute!
"Lip Sync Battle Shorties" is expected to debut in 2018. But, fans will get a few holiday specials set to air later this year. Nick should get his twins in on the action.
Also coming to television....
Meet the new @MTV TRL fam

(lowkey creeped on Amy's IG because she wasn't here yet) @DCYOUNGFLY@tamaradhia@lawkjackson@iamamyphampic.twitter.com/OSVftFgxO6

— Erik Zachary (@ErikZ) July 31, 2017
It's the era of reboots!
MTV is bringing "TRL" back and it's bigger and better. The daily live show will air from the network's iconic Times Square studio and become the prime destination for youth culture and a meeting point for millions of fans.
"TRL" will feature a cast of five rotating hosts including D.C. Young Fly, Erik Zachary, Amy Pham, Tamara Dhia and Lawrence Jackson.
The show will integrate linear, social and digital under the "TRL" brand and bring teen passion points to life, while continuing to incorporate audience requests. The digital extensions will feature platform-specific, premium content across YouTube, Facebook, Snapchat, Instagram and Musical.ly. We're sure the kiddies are going to love this.
The "TRL" reboot will debut Monday, October 2nd.
We're waiting on that "Teen Summit" reboot though, even IF we're out of the demo now.
Peep DC Young Fly's interview with "The Breakfast Club" about his new gig and the birth of his daughter below:
Photo: Screenshot