Yes, Senator Cory Booker wants marijuana legalized across the U.S. And he has a very good reason why. More inside…
Sen. Cory Booker wants marijuana to be legal across the U.S., but there's more to it then people being able to light up whenever they want.
Yesterday, the New Jersey senator introduced a new bill that would legalize marijuana in federal law. The Marijuana Justice Act would amend the Controlled Substance Act by moving marijuana's status as a Schedule 1 drug, removing the federal prohibition of marijuana.
What would that mean?
It means people who have been federally convicted on marijuana-related charges can have their record expunged. It would also guarantee sentencing hearings for people who are currently sitting behind bars on marijuana-related charges.
The new bill will also encourage states to amend their laws that have a "disproportionate arrest rate" on minority or low-income individuals.
"Our country's drug laws are badly broken and need to be fixed," Sen. Booker said in a statement. "They don't make our communities any safer."
Do you agree?
Sen. Booker's new bill will likely not get passed through Congress, especially with the GOP-controlled Senate. Sen. Bernie Sanders tried to pass a similar bill in 2015 and it got shot down.
Would you vote in favor of the Marijuana Justice Act?
BONUS:
YBF actresses Zendaya and Logan Browning are clapping back at White House press secretary Sarah Huckabee. In a new report, Sarah tries to explain that Donald Trump was "joking" when he encouraged the police to start using more force while delivering a speech in Selden, New York. Well, Daya and Logan has a few things to say about it.
Peep their much-needed responses below: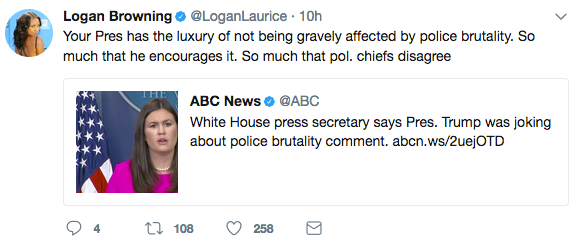 Then, Chelsea Clinton, daughter of Bill and Hillary Clinton, had to respond to Trump's disrespect towards the White House:
Sighs...when will it end?
Photo: Getty