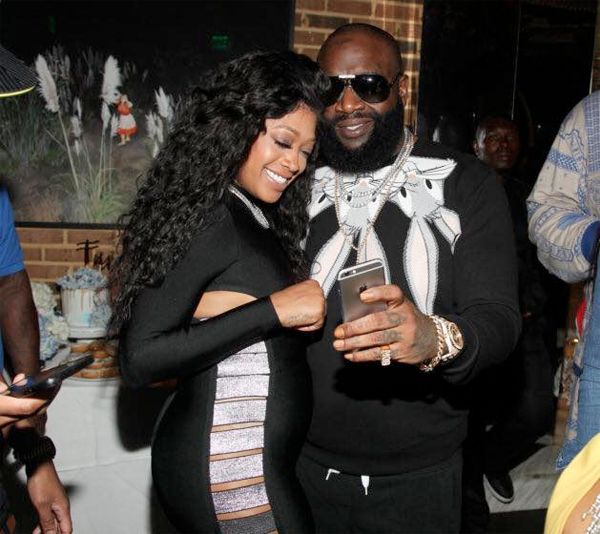 Rick Ross has issued an apology over sexist comments he made about why he hasn't signed a female rapper to his Maybach Music Group label. Read his apology inside…
Rick Ross caught some heat this week when he appeared on Power 105's "The Breakfast Club" to explain why he hasn't signed a female rapper to his Maybach Music Group record label.
The Rather You Than Me rapper said he hasn't signed a female rapper to his roster because he would be interested in getting between her legs than furthering her career. As expected, he received a ton of backlash online for his sexist comments. Now, he's apologizing.
The MMG honcho hopped on his Facebook account to publicly apologize, saying his comments were insensitive.
"I want to address an insensitive comment I made on a very sensitive issue, especially in a minority dominated industry like hip hop. My entire empire's backbone is led by 2 of the strongest people I know and they happen to be women, my mother and sister. The operations wouldn't run without them and I have the highest regard and respect for women in this industry. I have a daughter myself, my most cherished gift in the world."
He said his comments are not a reflection of his beliefs and it was a mistake. He continued:
"My comment is not reflection of my beliefs on the issue. A mistake I regret. I hope to use my mistake, my platform and the community to create positive discussion to implement change on a very important issue. respect for the ones who stand up to say hey that isn't right. Now it's time to accept responsibility and all do better."
Read his full apology below: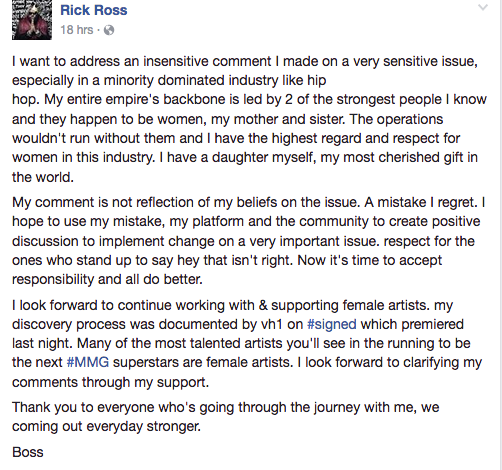 By the way, he posted the picture above of himself and raptress Trina after his apology with the caption, "The baddest chic featured boss on my 1st soundtrack. A diamond princess."
Rozay also posted this:
Do you accept his apology?
Photos: Rozay's FB