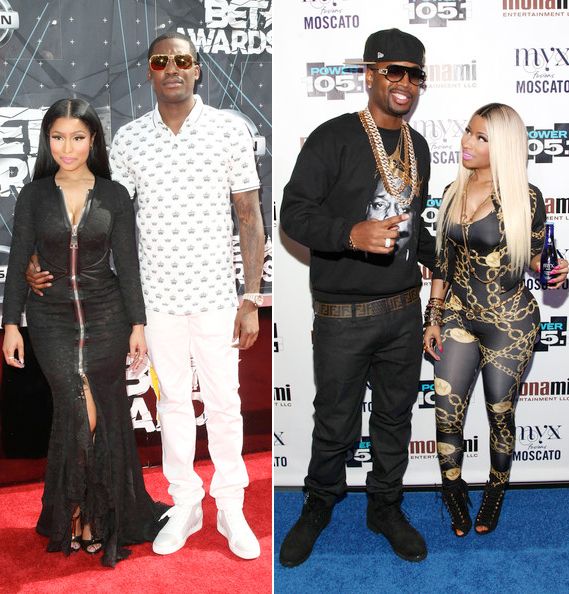 It's not even cuffing season and everyone's all in their feelings. Go inside to see Meek Mill get in touch with his softer side while talking about his ex-girlfriend Nicki Minaj and how Safaree Samuels still wishes she had his baby. Also, check out Jeremy Meeks' estranged wife Melissa Meeks pour her heart out on social media inside…
Breakups are never easy and they're even harder in the public eye. We've watched Meek Mill and Nicki Minaj's relationship go from the highest of highs down to the bottom with subliminal social media shots and all.
But, there's still some love there, at least on Meek's end.
The Philly rapper returned to his hometown for a pop up concert where he sat down with Power 99 before the show. He just dropped his new album Wins & Losses, so the radio host decided to ask him about the wins and losses in his life. And, of course, Nicki was brought into the mix.
He said getting with Nicki was a WIN because he always wanted to get with the Young Money raptress. However, the breakup was a lost. "Breaking up with anybody you love is a lost. Period," he said.
Check it:
Another one of Nicki's exes is all in his feelings as well...

Safree Samuels is also expressing regret over his failed relationship with the "No Frauds" rapper. The "Love & Hip Hop: Hollywood" star hopped on Twitter yesterday revealing how bad he wanted to start a family with his ex.
As you know, Safaree and Nicki were in a relationship for 12 years and were reportedly engaged. They broke up and she started dating Meek Mill, which caused a whole lot of drama.
By the way, Future just dropped his new video for "You Da Baddest," featuring Nicki. Check it out below:
Speaking of folks in their feelings...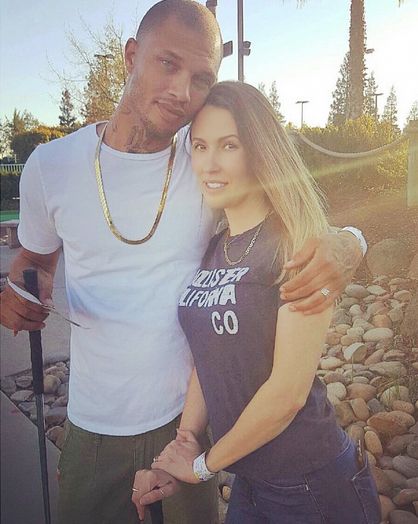 As f*** boi Jeremy Meeks flaunts his new relationship with Topshop heiress Chloe Green, his estranged wife Melissa Meeks is letting everyone know how she feels about the betrayal.
She posted: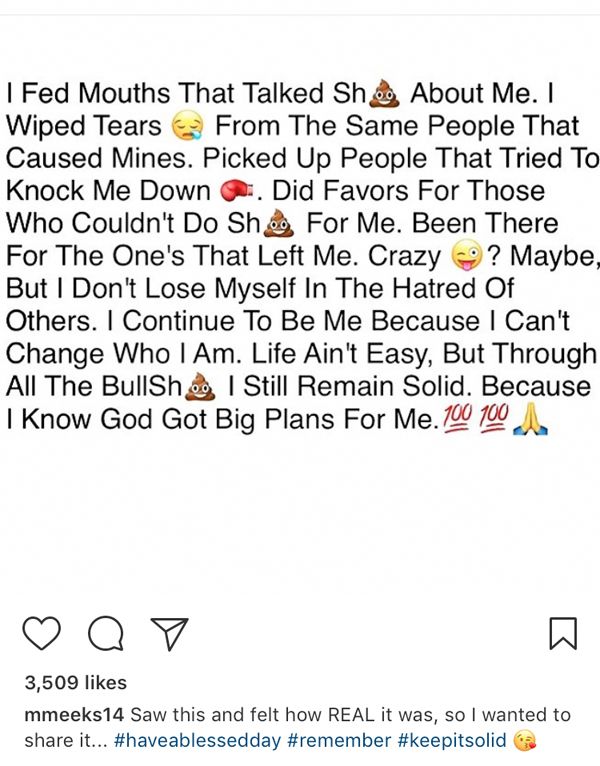 Things came to a head when photos of Jeremy tonguing down Chloe on a yacht in Turkey surfaced. Melissa later revealed Jeremy told her he was away on a "work trip" when people started hitting her up with the photos. She said in an interview she wanted to get a divorce.
Jeremy tried to beat her to punch by filing for separation days after the lovey dovey flicks popped up online. Since going public with their relationship, they've been spotted all boo'd up on several occasions. He even got introduced to the family business recently.
Keep your head up Melissa. KARMA is a b****!
Photos: Getty/Melissa's IG