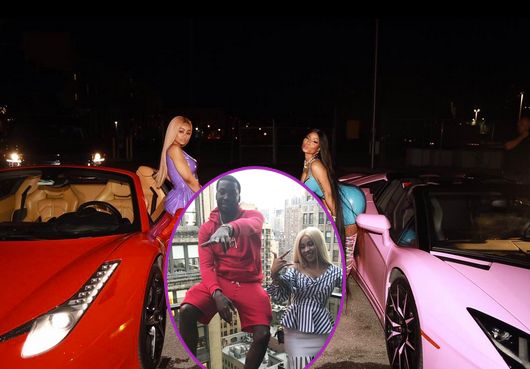 Meek Mill just released his new album, Wins & Losses, and he's taking shots at his ex-girlfriend Nicki Minaj and her ex-fiancé Safaree Samuels. Meanwhile, Nicki reunited with Blac Chyna for Yo Gotti's "Rake It Up" visuals. Everything inside…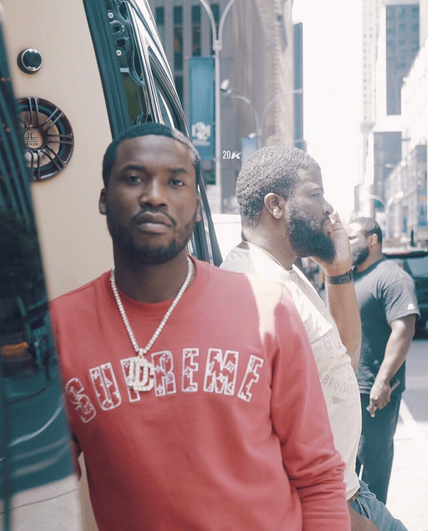 Meek Mill is tired of taking "L's" and he's issuing a few of his own.
The MMG rapper just released his third studio album Wines & Losses and he's letting some things off his chest about his past relationship with Nicki Minaj.
According to Meek, he's the one who broke up with the Head Barb and claims she's sick over it. On his track "1942 Flows," he dropped a few disses at his ex and even fires a shot at her ex fiancé Safaree Samuels.
"N*ggas talking shots, can't stop me, they ain't real enough/Cut her off, act like she's dead and it's killing her," he rapped."Try to crucify me like I'm Jesus the way she cross me."
Meek issued a warning to everyone not even ask him about Nicki anymore. And he clowned Safaree for going on the "Wendy Williams Show" to air out his business.
"Bloggers in the frenzy, truck to the Bentley/Ain't doing no interviews, I'm busy, n*gga we litty/So when you see me out don't ask me about no Nicki/F*ck I look like, telling my business on Wendy."
Take a listen below:
Think Nicki will respond?
Yesterday...
The Philly rapper linked up with reality star/rapper Cardi B before she made her way to HOT 97's "Queens of NY" yacht party with Remy Ma, Dej Loaf and HOT 97's female radio personalities.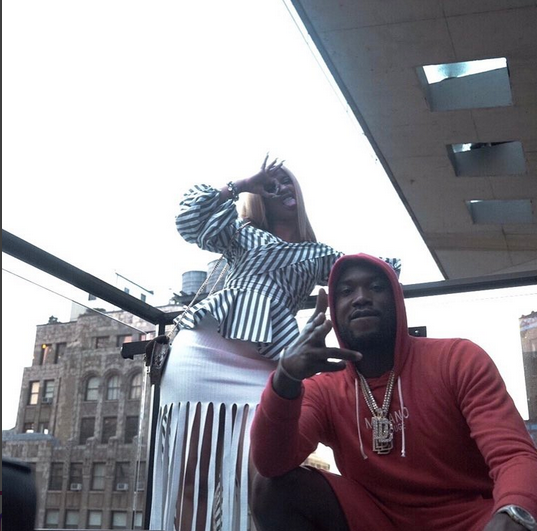 The "Lick" raptress rocked a blue and white striped Johanna Ortiz peplum top, a white cut-up Alexander Wang skirt and a gunmetal Hanifa clutch.
Looks like the Queens of NYC had loads of fun.
On the set of a new music video...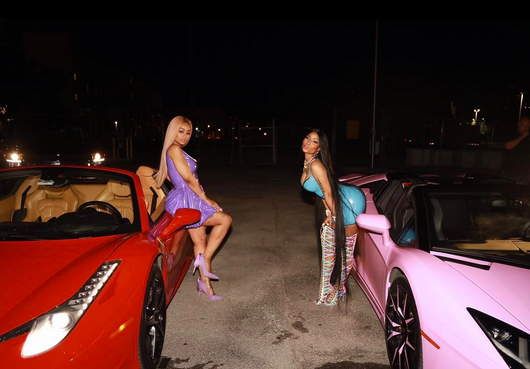 Not sure if Nicki will respond since she's still so busy.
She whipped out the pink Lamborghini to "race with Chyna" in Yo Gotti's new music video "Rake It Up." Literally.
Blac Chyna was sitting pretty behind a red Lamborghini. Chy couldn't bring her purple Lambo since her ex-fiance Rob Kardashian snatched it back after he leaked her nudes on social media.
The "Anaconda" rapper reunited with Chyna for the video treatment in Miami recently. If you didn't know, Chyna played Nicki's stunt double in Kanye West's "Monster," which featured Nicki.
Check out the behind-the-scenes flicks from the video shoot below: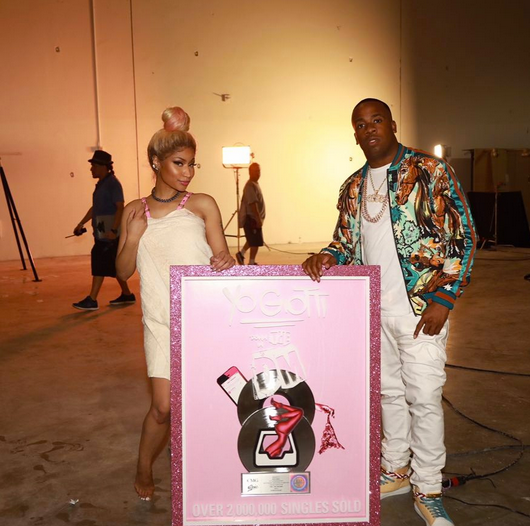 Oh, ok then...
Photos: Meek's IG/Cardi's IG/Nicki's IG