Tyga opens up about the advice he gave to Rob Kardashian about Blac Chyna and explains why he and Kylie Jenner called it quits. Get it all inside…
We haven't heard much from Tyga, but he's ready to talk now that he's a single man.
The "Rack City" rapper stopped by Power 105's "The Breakfast Club" to dish on his two high-profile relationships with Kylie Jenner and his son's mother Blac Chyna.
When Tyga found out that Rob Kardashian was dating his child's mother (he found out online like the rest of us) he said he hit Rob up with some advice to try and warn him about what he was getting into.
"I told homie too," he spilled. "I told him what the play was. I told him what he was going to have to deal with."
Shockingly, he said it wasn't awkward for him that his girlfriend's brother was dating his ex-girlfriend. However, he felt like Rob wasn't the type that could handle Chyna. He said Chyna is a good person, but she has a different mentality. She has been through a lot throughout her life and she didn't have anyone to guide her. He never felt like he needed to intervene because it was not his business.
As for his failed relationship with Kylie Jenner…
Tyga said they decided to end their relationship because things just weren't working anymore.
"I got love for her, but I'm not in love with her anymore," he said.
He said after the first year, the honeymoon phase wears off and you start to "notice some sh*t." He said there were a lot of outside influences that were a huge factor in their breakup.
Since Kylie was WAY younger than him when they got together he admitted his image took a hit and he felt a little forced to make it work. He said he felt his image was going to take a hit anyway for leaving a black girl with his baby for a young white girl.
Tyga tried his hardest to steer clear of answering questions about him being in a "Sunken Place" and the "Get Out" references. However, he did admit he and Kylie started talking when she was 17 (he was 25) and went public with their relationship later.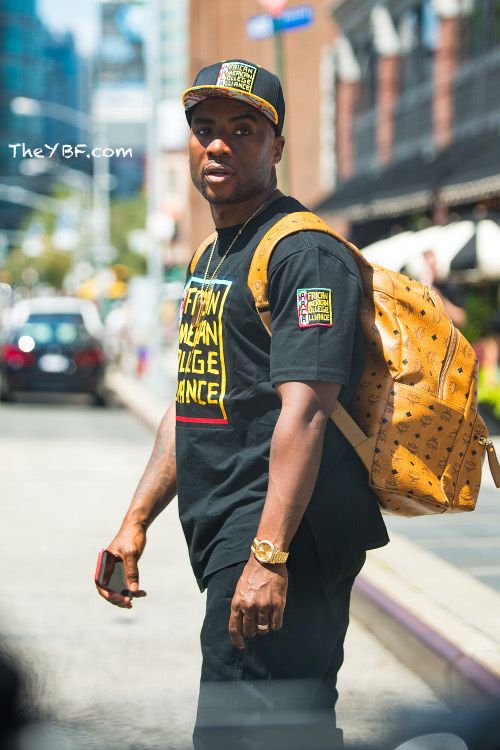 The west coast rapper said he helped Kylie in the urban world because no one was checking for her before they got together. Charlamagne had to remind him that Kylie also helped him in mainstream media.
As for Kylie's noticeable transformation, he took credit for that.
"I got with her [Chyna] and she super glowed up. I got with Kylie and she super glowed up."
Oh? He kept making it clear he is "ahead of the curve."
While Kylie may have helped him gain mainstream notoriety, he said that it didn't translate to more money.
Tyga said he and Kylie have been broken up for 7-months and doesn't feel any type of way that she's now talking to Travis Scott. He said he knew Kylie was talking to Travis through mutual friends and throwing parties.
As for the stories about his luxury cars being repo'd, he said those were lies and insinuated that those stories were being "planted." He didn't outright say Kris Jenner's name, but yeah.
When asked if the Kardashians ruin black men, he said they are just driven women who aren't going to let any man come in and change up their lifestyle. Hmph.
Tyga also talked about his "unofficial" deal with Kanye West's G.O.O.D. Music label, the Lil Wayne/Cash Money drama, his own drama with not being paid by Cash Money (he was the first to come out saying he wasn't getting paid and said he's owed $12 million), how he felt about Kylie and Kendall's Biggie & Tupac shirts, living the single life, his money issues, his relationship with Chris Brown and more.
Check out the interview below:
Thoughts?
Photos: Splash/Charlamagne's IG