Oprah Winfrey is among the hotshot moneymakers who covers FORBES "126 Billion Cover."  See the photo inside and get deets on LaTocha Scott dishing on an Xscape reunion and see Jourdan Dunn on the cover of "i-D."
 
Back in June 26, FORBES Magazine put on the first-ever Forbes 400 Summit on Philanthropy, a gathering of 161 billionaires and near-billionaires who want to solve the world's problems. During a break, the mag snapped up a picture of 12 of the attendees and Oprah Winfrey, Bill Gates and Warren Buffett were among them.
The photo was taken by photographer Michael Prince in the Trustees Room at the New York Public Library. The net worth in the room was $126 billion! The pic covers the 30th annual Forbes 400 issue which ranks America's wealthiest people.
And in BE magazine.................
LaTocha Scott covers the latest digital cover of BE Entertained Magazine where inside she talks about life after Xscape and the possibilities of an Xscape reunion. Here are the highlights:
On life after Xscape:
"Well it's BEen busy! I've BEen writing my memoirs, mentoring young girls and I started my foundation called "Golden Gyrl Foundation." I started working on a mixtape and my new album. I've just BEen busy. It's BEen a whirlwind, but I've started to write and explore myself and the thoughts inside of me. Continuously working!"

On the possibilities of an Xscape reunion:
"I would LOVE for that to happen! I know Tiny she hit me like a week ago like you know lets talk and do lunch, so I may put that bug in her ear and see how she feels about it. My sister Tameka is always down so that's her, as far as Kandi, I haven't spoken to her, but you never know. I mean I don't know if she would BE willing to do a reunion, I know she busy with her businesses and things. But as far as the group is concerned I would definitely wanna do something. I'm thinking about including the girls on one of my songs for my album. I think it would BE great. I think we owe our fans that as well."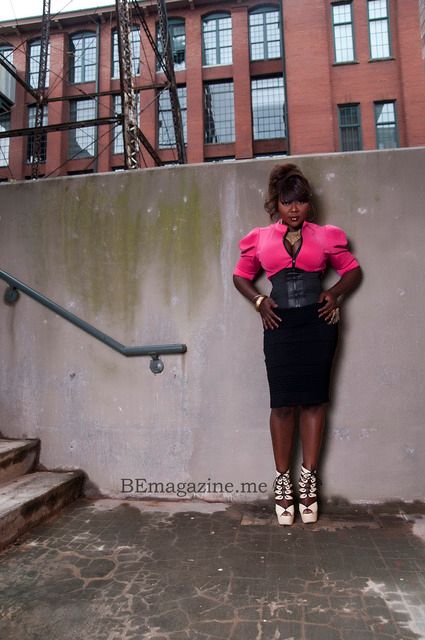 '
And in other magazine news....
Model Jourdan Dunn covers the latest issue of "i-D" magazine.  She tweeted, "Oh Look what we got here......another ID COVER!!!!!!!"    This happens to be her sixth cover!  She added, I ♥ @iD_magazine soo much you guys along with my fashion daddy @EdwardEnninful have supported me from the get go Truly appreciate the love.
And coming up, fans will also see Jourdan in Russian Vogue next month.
Photo Credit: Porsha Antalan/Emma Summerton/Michael Prince