Safaree Samuels is not here for Nicki Minaj's constant shade and he wants everyone to know. Find out all he said, plus flicks of Cam Newton in the Trap House with 2 Chainz...
Four years later and the post-breakup "beef" continues.
Safaree Samuels called out his ex-girlfriend Nicki Minaj over her constant shade towards him on social media. Apparently, Nicki went on a "liking" spree of anti-Safaree posts via Twitter. She had time to sift through negative Twitter comments about her ex and like them.
Screenshots started making its rounds on social media, so the "Love & Hip Hop: Hollywood" star decided to respond. He's fed up with all of the childish back and forth sub-disses and said he will no longer participate in the shenanigans. The NYC rapper pointed out that Nicki is obviously still "bothered" because she's still throwing shade years after the breakup. He never mentioned her name, but it's obvious who he's talking about.
Peep his tweets below (read from the bottom up):
He has a point.
By the way, that's K. Michelle in the studio with Safaree above.
When athletes and rappers link up....
Carolina Panthers quarterback Cam Newton and rapper 2 Chainz brought sports and music together last night. The football player and rap star hit the stage at Cam's C1N Under Armour sneaker launch held in Cam's hometown of Atlanta. And 2 Chainz brought his pink Trap House car for the festivities.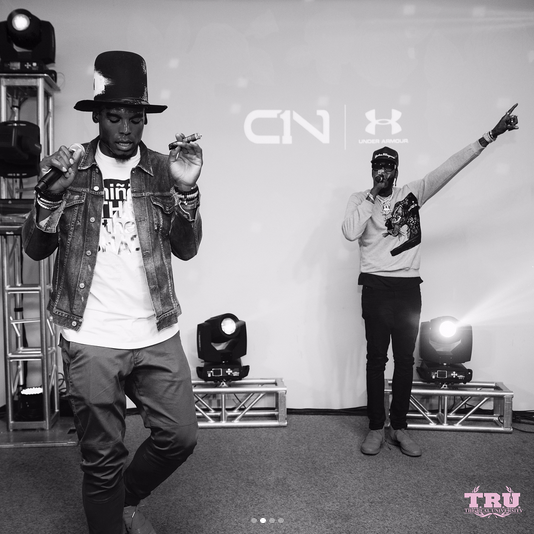 The duo hit the stage to perform the rapper's track "Riverdale Rd," a cut from his newest album Pretty Girls Like Trap Music. Y'all know Cam loves rap music.
The event also featured the unveiling of different colorways, community engagement activities, and live performances.
Peep a few clips from their joint performance below:
Fun times.
Photos: Safaree's IG/2 Chainz's IG