The 6 God welcomed Floyd Mayweather to his city yesterday.  Drake hopped on stage to intro his homie during the second stop of the promo tour of the biggest fight of the year.  See what everyone was up to inside....
During the super tense second meeting between Floyd and Connor McGregor, the fellas talked plenty of ish to each other at Toronto's Budweiser Stage in front of a packed audience of 16K.
Of course, hometown hero Drake was there to set ish off:
The meet up comes a day after Connor told Floyd "Dance for me, boy" at their first meet up in L.A.. 
[2:40 mark] Needless to say, that ish didn't go over well.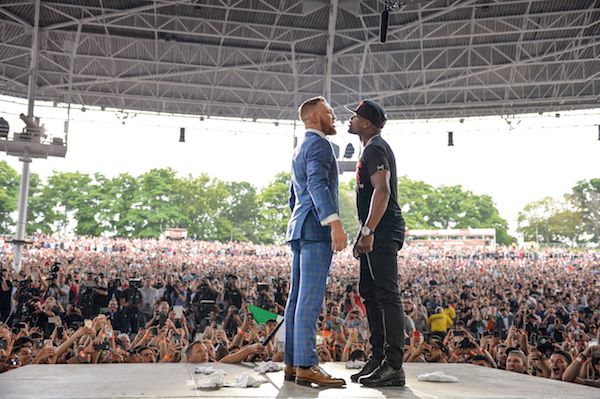 Floyd told Connor on Wednesday:
"We're not talking about being at the top for one year, two years, three years, four years. We're talking about 21 years.

 

"Turn the pressure up.  I don't quit, I don't fold under pressure.  I'm the best and I know I'm the best.

 

"If you believe in yourself like you say you believe in yourself, bet your whole fight check."
The build up is getting real.