#PrisonBae Jeremy Meeks has filed paperwork to separate from his wife Melissa Meeks after she said she was going to divorce him over his cheating scandal. Deets inside…
#PrisonBae Jeremy Meeks isn't wasting any time to cut ties with his estranged wife Melissa Meeks…even though he was the one caught cheating.
The felon-turned-model reportedly filed documents to separate from his wife of eight years after she revealed in a recent interview that she was going to file for divorce. Clearly he's all about beating her tot he punch.
The couple shares a 7-year-old son together, Jeremy Jr., and Melissa has an 11-year-old son from a previous relationship.
Sounds like he's protecting whatever money he's currently making from his modeling gigs.
In an interview with the Daily Mail, Melissa revealed she was going to file for divorce after pictures of her estranged husband tonguing down Topshop heiress Chloe Green on a yacht in Turkey surfaced last week.
She said she was humiliated when she saw the photos and she had no idea he was seeing someone else. She said he told her he was going out of town for a business trip. Melissa said she first saw the photos when a random person sent them to her in a DM.
"The first I learned of it was when I woke up and checked my phone. Some random person I don't know sent a direct message with the photograph of my husband kissing that woman. I went into shock. I felt nauseated. It was like a bomb had gone off and my whole world had been blown apart. I'd never heard of Chloe Green. I thought Jeremy was working."
Damn!
After seeing the lovey dovy shots, she tried calling and texting Jeremy, but he would not respond. When she finally got in touch with him, she said he told her he was sorry for the way she found out, but he wasn't apologetic about the hook up.
Melissa, who is a nurse, said, "We talked about divorce. I told him I didn't think the marriage could be saved. He agreed. The marriage is over."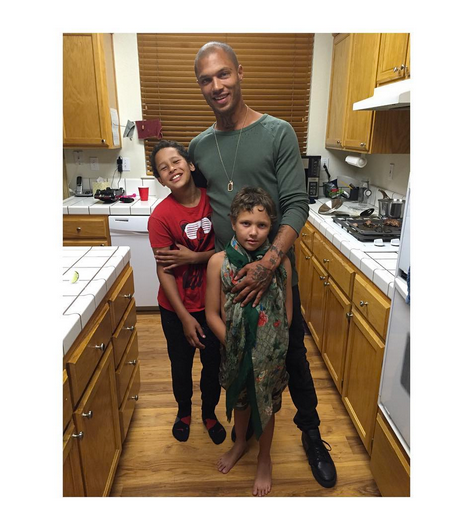 Jeremy returned to their home in Manteca, California to celebrate the 4th of July holiday with his kids (pictured above) and that's when she was able to confront him face-to-face. Oddly enough, there were photogs camped outside their home and snapped pictures of them during their argument. You can peep the pics here.
Typical f*ck boi-who-found-fame behavior at its best....
Photos: Melissa's IG/Jeremy's IG