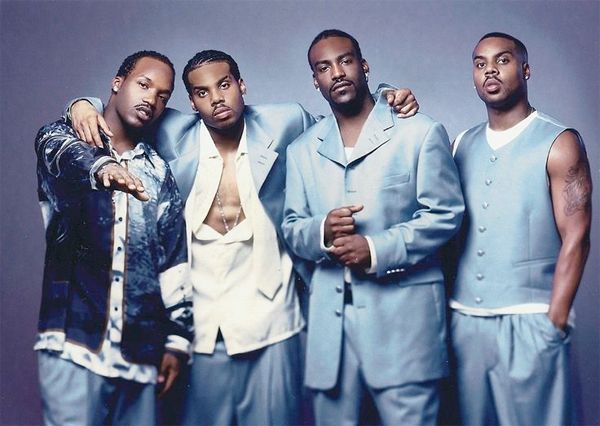 Jagged Edge spilled all the behind-the-scenes tea on their "Unsung" episode last night and it was many things. Were they the reason LeToya Luckett and LaTavia Roberson were kicked out of Destiny's Child? Find out inside…
We love some tea! Especially on our favorite acts from back in the day.
R&B singing group Jagged Edge shared their story of their rise to fame and fortune as one of the hottest male singing groups. Let's be honest, we all were in love with JE when they came out. They had the right amount of swag and could SANG, not sing.
The group, originally named Twin AK, shared everything that went down behind-the-scenes and spilled some HOT tea about how/why LeToya Luckett and LaTavia Roberson were kicked out of Destiny's Child.
So here's what went down….
JE was touring with Destiny's Child and it just so happened that the twins, Brandon and Brian Casey, were dating LeToya and LaTavia. They tried to keep it on the low as much as they could. Their management, Mathew Knowles, wasn't happy about it and shut ish down with the quickness.
They were in Louisiana one day and LeToya's mother, Ms. Pam, wanted to ride the bus with the groups. DC's management told them that if Ms. Pam got on the tour bus then they would lose their jobs! JE decided to stand up to DC's management because they didn't think it was right to kick someone's mother off the tour bus.
Well, Ms. Pam and JE ended up getting kicked off the bus. Not too long after the incident, there were new members who joined Destiny's Child. That particular situation may not have been the catalyst that eventually had them thrown out of the group, but we're sure it definitely was an issue.
Peep the clip below:
LaTavia, who appeared on the episode, said their hit track "Promise" was written about her relationship with Brandon. She said she started crying when she heard it and thought they were going to get married. They ended up being together for about 7-8 years before they called it quits.
Before Brandon and Brian started hooking up with Destiny's Child members, Brandon was in a serious relationship with Xscape singer Kandi Burruss Tucker, who appeared on the show. She became their manager after group member Wingo sent her their demo. She eventually got them signed to Jermaine Dupri's So So Def label.
While they were dating, Brandon, his twin Brian and Kyle all moved in with Kandi. The twins' mother would come over to Kandi's house and clean up because she said she felt bad she had all those knuckleheads in her home. The "RHOA" star said Brandon told her "I Gotta Be" was written just for her.
Kandi and Bradon eventually called it quits. Kandi said she couldn't handle Brandon when he would get upset and that it was too much for her.
Anger issues for the loved up singers? Yep!  So, Jermaine Dupri made them attend daily anger management classes for 8 weeks because they were so out of hand. They were a MESS, and didn't care.
Photos: TV One's IG