This ish still isn't over.  Now, Chyna is claiming that Rob Kardashian may try to kill himself.  And Rob is popping back with abuse claims of his own.  More inside....
After appearing on ABC News this morning with her side of the story, a "devastated" Blac Chyna now says she's scared that Rob will try to use his gun to end his own life.
It's no secret that Rob has had emotional (and possibly mental) struggles over the last few years.  Struggles that he claims Chyna helped him get through with her cooking and fitness routines.
Chyna revealed today that Rob has a gun and has threatened to kill himself, so she's now "terrified."  It's unclear when Rob made this alleged threat or why Chyna is just now speaking about it.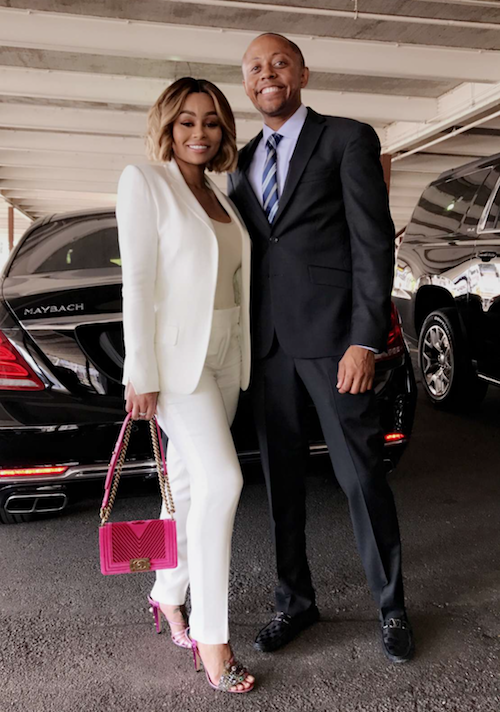 In addition to this new info, her lawyer Lisa Bloom filed more papers today claiming te abuse Chyna accused Rob of previously on Snapchat the other day, wasn't the end of the story.  TMZ reports the docs state Rob chased her into a bathroom and was punching walls and her:
Chyna's celeb lawyer, Lisa Bloom, filed new docs Monday, adding to her clients claims of violence. As we reported, she says in addition to Rob attacking her in April, that same month, Chyna now says Rob punched her, knocked her to the ground and she ran in fear to her bedroom, where Rob punched a hole through the door to get at her.
Chyna (pictured above looking courtroom ready with her other lawyer Walter Mosely) and Lisa made their way to the courthouse at 8:30am PST to file the papers and talk to the press about winning their set of restraining orders against Rob.
Conveniently, Rob whipped out his own extra docs today as well. And he claims Chyna once tried to strangle him, and he's got video proof.  Kris Jenner's boyfriend Corey Gamble allegedly broke up their fight.  TMZ states:
As for Rob, sources close to the situation say in December, the day Chyna moved out of the house she and Rob were sharing, she tried choking him with an iPhone cord and tried hitting him with a metal rod. The sources say Corey Gamble walked in and pulled Chyna off Rob. She then allegedly went through the house, smashing televisions, doors and other items, causing $35k in damage. The sources say Rob has surveillance video documenting the incident.

We're also told Rob's lawyers have texts from the time Chyna moved out, in which she told a friend that Rob would never hit her. Our sources say they feel the messages help to vindicate Rob.
Interestingly, Rob says he won't contest the restraining orders.  His lawyer, Robert Shapiro (chile...), has already pleaded to the judge saying Rob's revenge porn actions were a one-time "spontaneous" thing:
Rob's lawyer, Robert Shapiro, tells TMZ, Rob's cyberbullying last week was "a spontaneous reaction that he regrets."

We're told Shapiro will appear on Rob's behalf and immediately tell the judge there is no need for a hearing because Rob has no interest contesting her request for a restraining order that prohibits him from posting personal information about her and intimate photos as well.
Dis tew much.
Photos: Backgrid/Snapchat