New couple alert! Michelle Williams has found love and we're SO here for it. Get the scoop on her new boyfriend inside…
When Jesus says yes, nobody can say no!
If you follow Michelle Williams on social media, a few months ago she opened up to her fans like never before. She talked about going through a bad relationship after she caught her man cheating and how she was recovering from it.
Then, remember this epic GLOW UP?!
As she worked on self, the man of her dreams popped up unexpectedly and it appears they're now all wrapped up in love.
The former Destiny's Child singer is dating Pastor Chad Johnson, a chaplain for the Pittsburgh Steelers and the L.A. Dodgers. No, not the former football player—a pastor!
Chad, who turned 40 a few days ago, posted the picture above with the caption,"She is special!!! And in her words ...... "I'm all the way here for it!" #40for40"
So are we...just like all of her friends: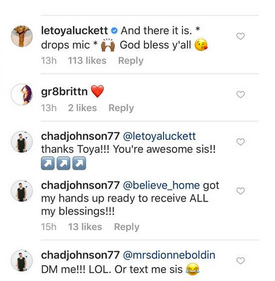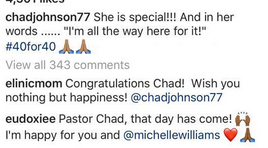 The gospel singer also posted up something special on her Instagram:
Aww! So happy for them.
Below are a few flicks/videos of her new beau:
We keep looking at the picture Chad posted and it's giving us engagement vibes. We're not rushing anything, but we wouldn't be surprised if they took their relationship to another level soon. Mmhmm...
Photos: Chad's IG