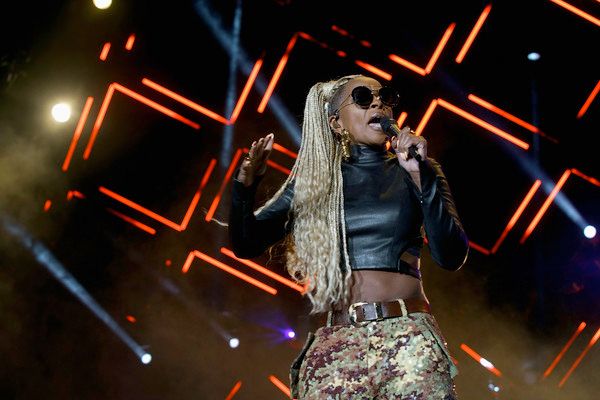 Mary J. Blige is using her tour to heal through her pain after filing for divorce from her estranged husband Kendu Isaacs. Hear what she told her Philly fans inside…
Mary J. Blige is working to find peace in her life (again) amid all of the drama she's currently going through surrounding her pending divorce from her estranged husband Kendu Isaacs.
After blasting her ex for having to pay $30,000/month in spousal support during her New Orleans concert, the Queen of Hip Hop Soul poured her heart out again during her 4th of July "Wawa Welcome America" concert in Philly. A heavy downpour almost cancelled the concert, but it stopped just in time for Mary to rock the stage on the Ben Franklin Parkway.
"We [Women] feel each other's pain on a level that you have no idea about," Mary told the fellas in the audience. "Fellas, especially ya'll, we're women. You can't be breaking our jaws and giving us black eyes and stuff like that."
Wait…what? Is that what Kendu was doing behind closed doors? We hope not.  Or maybe she was talking about previous domestic violence relationships that she's spoken of before.
"You can only have one queen! ONE QUEEN! Not two queens."
She left with a message of hope, reminding her fans to keep fighting and that it'll always work out in the end.
Peep the clip below:
Check out a few more clips from Mary's performance below:
Photo: Getty