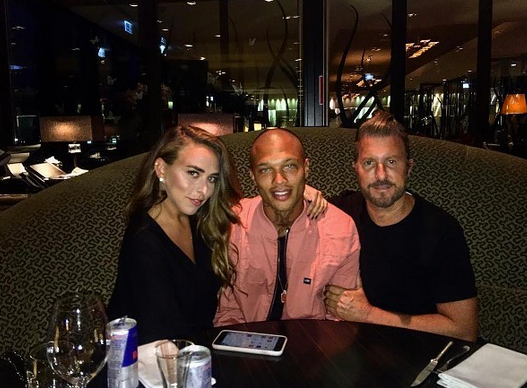 #PrisonBae Jeremy Meeks done glowed up and has seemingly left his wife Melissa Meeks for Top shop heiress Chloe Green. They were spotted tonguing each other down on a yacht recently and Melissa has seemingly responded. Sip the tea inside….
Y'all remember Prison Bae Jeremy Meeks. He was the guy who's whole life changed after his mugshot went viral. He went straight from the big house to making his runway debut during New York Fashion Week last year.
You'll recall, he was a married father of two young children. But these days, he has a new chick on his arm and sucking his face.
A few days ago, Prison Bae, 33, was spotted kissing Topshop heiress Chloe Green, 26, aboard a yacht a luxury yacht in Turkey. And based on the flicks, they seem madly in love because they could hardly keep their hands or lips off of each other. Peep the pics here.
They're not hiding their newfound love either. Chloe, the daughter of Topshop owner Sir Philip Green, has posted several flicks of herself with Jeremy on her Instagram page (which is now set to private):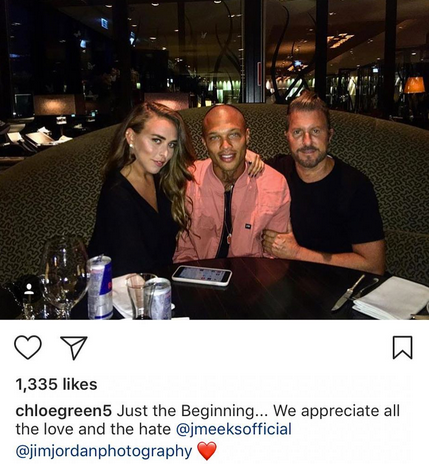 So what about his wife Melissa Meeks? She's around and has seemingly responded to her husband's extramarital antics.
She posted a seductive selfie (above) on her Instagram page with the caption,"#queensareborninjuly #itsmybirthdaymonth."
Jeremy has wiped his Instagram account of all pictures he posted of his wife. However, Melissa still has pictures of Jeremy on hers. The last coupledom shot she shared was posted on June 4th of Jeremy giving her a kiss (above) that she captioned,"#nocaptionneeded"
Jeremy clearly has a type. And now that he has been welcomed into a new realm of rich people, he now has more expensive taste, if you want to call it that.
While we don't know what happened between Jeremy and his wife Melissa, from the outside looking in, it appears to be a messed up situation. How are you going to leave your wife -- the one who held you and your kids down while you were locked up -- for a chick you met during the Cannes Film Festival last month? Chile....
Photos: Jeremy's IG/Melissa's IG