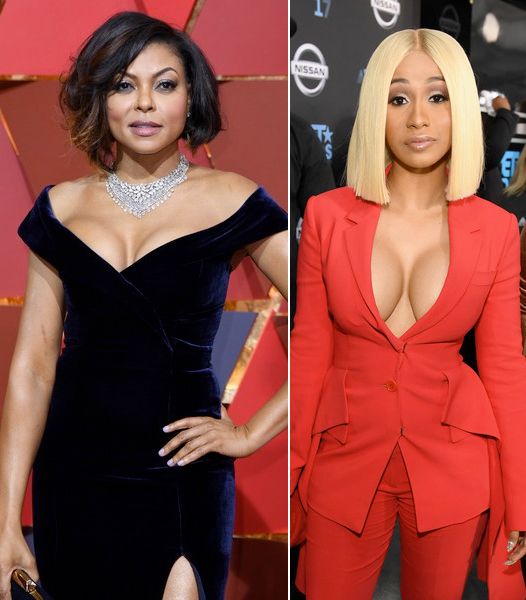 Social media is on fire with celebrities showing each other love and there's also some shade being thrown. Catch up on what's going on between Taraji P. Henson& Cardi B, Joseline Hernandez& Stevie J's daughter Savannah Jordan, and estranged couple T.I.& Tiny Harris inside…
Fans aren't the only ones taking notice of Cardi B's success. Hollywood is watching her rise to the top as well.
Golden Globe winner Taraji P. Henson is a fan of "Love & Hip Hop" star's hustle and she's making it known how proud she is of her glow up. The "Empire" star hopped in Cardi's comment section with some words of wisdom and encouragement.
Once Cardi spotted Taraji's stamp of approval, she snapped a screenshot of the message and totally fanned out on her Instagram page. Peep the #BlackGirl love below:
When queens stan out for one another!
Switching gears...
If you're a fan of "Love & Hip Hop: Atlanta" then you saw that recent explosive scene where Joseline Hernandez and Stevie J's daughter Savannah Jordan almost came to blows. And now, it's spilling over on social media.
Joseline hopped on Twitter to bash Savannah and had the nerve to call her "nappy head." Peep her crazy tweets above and below:
SMH!
Well, Savannah isn't one to back down (which we saw on the show), so she offered up a response to Joseline...and she's letting her know exactly what's set to pop off the next time they cross paths:
Chile...
In other social media news...
Tiny Harris is enjoying the special moments of motherhood with her baby girl Heiress. Being a proud mom, she decided to share a video on Instagram where she's giving her baby girl a bath. While most of the comments were gushing over Heiress' baby cuteness, her dad T.I. wasn't happy about it.
Rather than calling Tiny up on the phone to air out his frustrations, Tip hopped in the comments section to ask his estranged wife to take the video down. He wrote, "Will you cover my baby up & put some clothes on her please?!?!?"
Oh Tip.
The Xscape singer responded to her husband saying, "She is a baby...none of her bottom half of her body is showing & she don't have [poop eomoji] to show on top. Spare me with the extraness it's unnecessary."
Bloop! 
Photos: Getty