While La La Anthony has separated from her estranged husband Carmelo Anthony, she says she's not divorcing him just yet. Get all of the details she spilled about her uncoupling inside…
In today's edition of "This is your glow up when you drop a man with F-Boi behavior"....
Since news broke that La La and Carmelo Anthony were separating, there has been speculation that a divorce will soon follow.
Now, the "Power" star is putting the rumors to rest...kinda.
During an appearance on "The Wendy Williams Show" today, the ridiculously hot birthday girl said she doesn't have any plans on divorcing the NBA star, at least "not right now."
We first learned that La La and Melo were calling it quits about 2 months ago after 7 years of marriage and being together a total of 12 years. Rumors of him impregnating a stripper have gone un-refuted by the couple.
The "New Edition Story" star said they're currently going through a rough patch in their relationship and she's not sure what the future holds.
"Marriages are tough," she said. "We all know that. It's filled with ups and downs and we're just going through a time right now. But, him and I are the best of friends and our #1 commitment is to our son, Kiyan [Anthony]. We have to set an example for Kiyan and that's what's important to me."
No matter how she feels about the situation, she said she will never bash him in the media.
"I will absolutely never say a bad thing about my husband. That's my son's father and he's an amazing dad."
On La's birthday (this past on Sunday), Melo posted up a tribute to his wife, wishing her a Happy Birthday: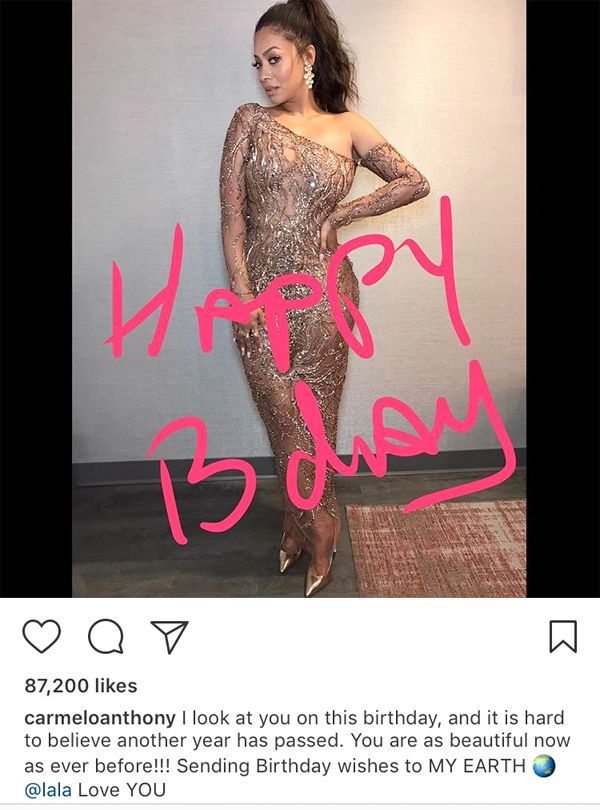 Wendy noted that Melo is really trying to win her back with his nice gestures, in which La responded, "Why wouldn't he?"
Ha! Let foks know La!
"I don't know what the future holds. I just know that we are doing an incredible job of being parents to our son. We are the best of friends. I've been with Melo since he was 19-years-old. You're not with somebody that long and it just goes out the window. I love him with all of my heart and we are the best of friends."
There are rumors that Melo could possibly go to the Boston Celtics, but La won't be jumping ship with him."New York is definitely where I'm at and where I'm staying," she confirmed.
So is she currently dipping in the dating pool?
"Yeah, I'm dating myself. I'm trying to get myself in order. I'm in the gym everyday. I'm eating right. I'm taking out all of the bad stuff out of my life and just really dating and focusing on myself, which is something women need to do a lot more often. Put ourselves first."
Drop those gems chick!
Peep her interview below:
A new episode of "Power" premieres Sunday, July 2nd at 9pm EST on STARZ.
Photo: Screenshot