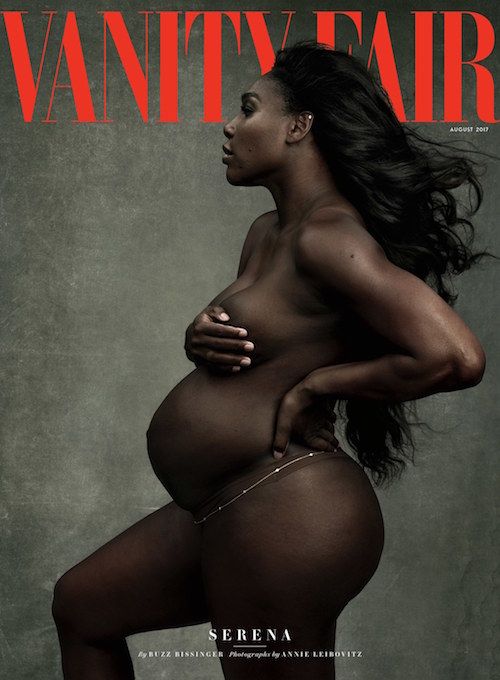 We can't EVEN with the stunning perfection that is Serena Williams' maternity shoot for Vanity Fair!  Get into the breathtaking shots -- fiancé included -- and her epic love story inside...
Shutting ish down as always, Serena.  She tells Vanity Fair in the August 2017 issue everything we've been wanting to know – her and Alexis Ohanian's love story, her pregnancy vibes and why she feels she's losing her freedom.
Tennis' #1 woman and her fiancé Alexis were photographed in Highland Beach, crazy beautiful & in love: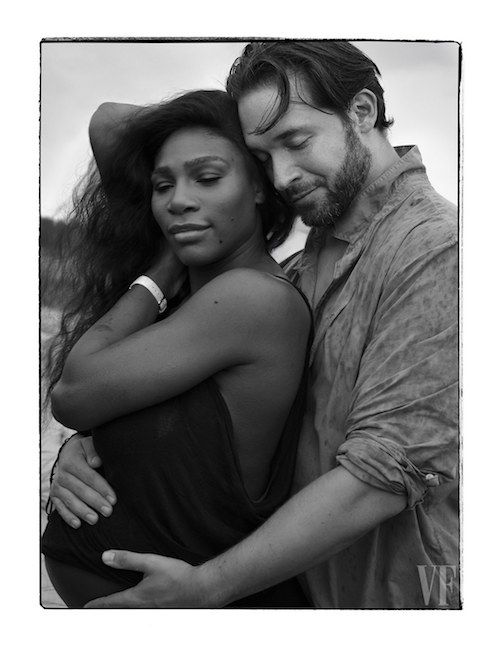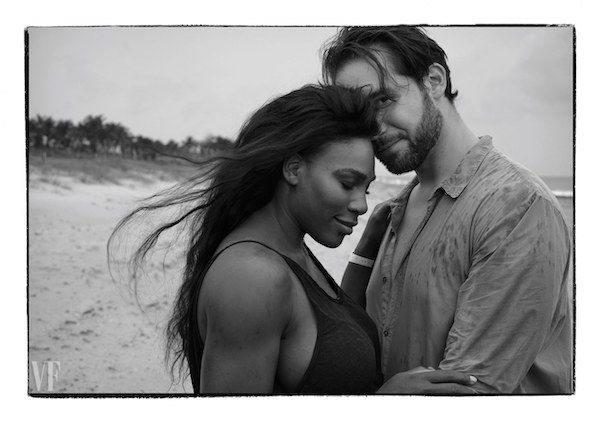 The love story they told to VF though, epic.
They met in the most happenstance of ways.  6'5 tech entrepreneur Alexis sat down at a restaurant table next to Serena -- that she was saving for her team -- at the Cavalieri hotel, in Rome May 2015.  Se was about to play in the Italian Open and he was speaking at a tech conference.  She and her friends lied and told him a rat was by his table to get him to move, and she was annoyed this "big tall man" would plop himself next to their table out of every empty table there.  By the way, she was only there because the buffet she wanted to go to had closed 5 minutes before.
Alexis said he's from Brooklyn so he's unbothered by rats, and stayed right where he was with earphones in and doing work on his laptop.  When Serena invited him over to join their table, he wasn't even sure if she was THE Serena Williams because he never watched tennis.  Only basketball and football.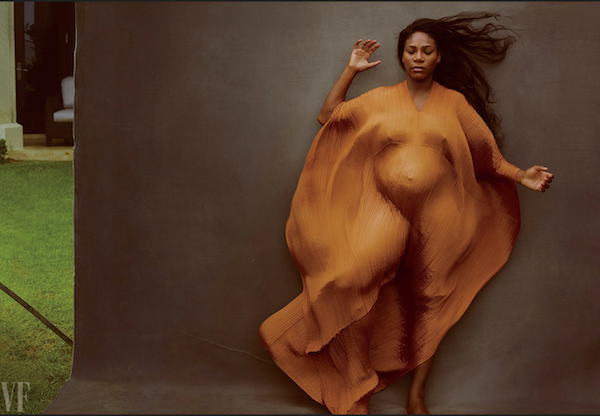 Fast forward to a couple more happenstance meetings during their time and Rome, and exchanging numbers, and they were soon a couple.
Alexis also said he knew he would marry her when she FaceTimed him to wish him happy birthday -- something she doesn't even celebrate because she grew up as a Jehovah's Witness.
Here's a few more highlights you gotta see:
On how he proposed with a surprise trip to Italy...while she was training for a tournament:
Serena wasn't happy. Actually, she was livid. But after she got on the plane, she realized that he was flying her out for only one reason. "I knew it was coming. I was like, 'Serena, you're 35, you're ready. This is what you want.' "
Alexis picked the same room they had shared a year earlier, the hotel at his instruction filling it with flowers. He took her downstairs to the same table by the pool area where they had first met. No one else was there, since the hotel, also at his instruction, had cleared everyone else out. He retold the story of how he had met her for the first time at this exact spot two years earlier. On the table was a little plastic rat.
Alexis got on one knee and proposed.
Serena's totally freaking out over being unprepared:
"I don't know what to do with a baby. I have nothing.... I've done absolutely nothing for the baby room."
On how Serena simply being Serena inspires him to be a better man:
"I felt like a door had been opened to a person who made me want to be my best self. . . . I find myself just wanting to be better by simply being around her because of the standard she holds."
How she broke the pregnancy news to Alexis:
Once Serena knew she was pregnant, she called Alexis and told him he needed to come to Melbourne earlier than planned. She did not give him the reason, but Alexis thought it was likely health-related and immediately got a United flight out of San Francisco. When she saw him, not a word was said.

She handed him a paper bag with the six positive pregnancy tests.
On not planning to be pregnant anytime soon:
"If you would have told me last year in October or November that I would have a baby, not be pregnant but have a baby, I would have thought you were the biggest liar in the world. This is kind of how I am right now. This is happening sooner than later, and it's going by so fast."
Her friend Diondria says she loves being pregnant, but the innate competitive vibes are taking over as well:
"I can also see competition creeping in on her. Is this over yet? I think she's getting this itch . . . to see her intensity and her workout—'I have to stay fit. I have to get back on the court.' Very determined to get back on the court."
The current state of their relationship:
Alexis and Serena still try to see each other every weekend in what will be a bi-coastal relationship until marriage. Alexis is looking forward to the marriage. Serena, with tongue floating somewhere in cheek, says, "I'm trying to enjoy the little freedom I have left."
She was 6 months along at the time of the shoot, so it appears 'Rena's baby will be here soon!
Photos: Annie Leibovitz for Vanity Fair