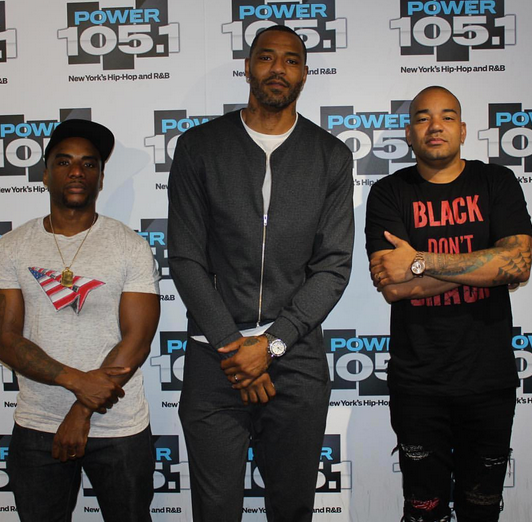 Remember when Kenyon Martin was all wrapped up in love with Trina? He never married her though and now he's revealing why.
We're sure you remember when former NBA player Kenyon Martin and rap star Trina were together and madly in love. So much so, Kenyon got Trina's lips tatted on his neck. But, they ended up calling it quits in 2010.
These days the basketball player, who's gearing up to play in Ice Cube's Big3 League, is married to wife Shakira Watson. But, there are still some unanswered questions about his past relationship.  When he went on The Breakfast Club this AM, y'all already know Charlamagne and co. had the questions.
"It just wasn't the right time," he admitted. "I wasn't in the marrying mind state at the time. I had been married before and I wasn't ready to jump back into that."
Kenyon said he was too young to be thinking about marriage because he was still out in these streets picking up THOTs. Even though all of his friends loved the fact he was with Trina (Charlamagne even dubbed her the hood dude's dream), he just wasn't ready.
After the breakup, Kenyon got his Trina lips tatt covered up because he said he got sick and tired of people always asking him questions about it. And of course, his new wife wasn't having it.
Kenyon also talked about how "soft" the NBA is these days, which teams he refuses to watch and more.
Hear all the Trina talk at the 16:30 mark:
The first game of the Big 3 League season kicks off Sunday, June 25th at the Barclays Center.
BONUS: Get into our podcast with Trina when she talks ALL about cheating exes who couldn't handle the real her.  Now we know who one of them was....
Photo: Envy's IG