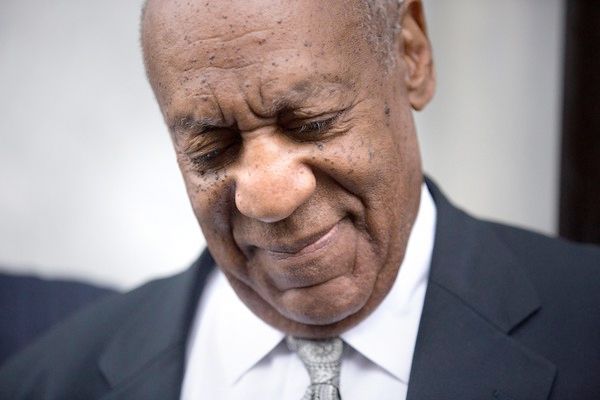 Bill Cosby is gearing up for a speaking tour to warn teens about the very actions he was accused of doing. Is this a good idea? Decide for yourself, plus find out some details about the deadlock jury inside…
After a mistrial was declared in Bill Cosby's sexual assault case, he's now gearing up for a speaking tour aimed at teens about sexual assault. WHET?! (no typo)
Who thought this was a good idea?
According to Bill's publicist Andrew Wyatt, the 79-year-old, who will have to go to court again after the verdict was appealed, will embark on a series of town hall meetings.  The speeches will be for teens, specifically athletes, to warn them about the dangers of "hanging out and partying, when they're doing certain things they shouldn't be doing."  And he's also going to be talking to married men.
Oh?!
Andrew Wyatt and his associate Ebonee Benson went on "Good Day Alabama" talking about how Cosby wants to "get back to work" with a motivational speaking tour.
Andrew told the morning show:
"We're now planning town halls and we're going to be coming to this city (Birmingham) sometime in July … to talk to young people because this is bigger than Bill Cosby."

"This issue can affect any young person, especially young athletes of today, and they need to know what they're facing when they're hanging out and partying, when they're doing certain things that they shouldn't be doing. And it also affects married men."
Well, if a married man wasn't cheating on his wife, he wouldn't have anything to worry about would he?
Check it:
Would you let your teen participate in a town hall discussion about sexual assault with Bill Cosby as the keynote speaker?
Speaking of his trial…
Details are slowly coming out about the jury ended up being deadlocked after deliberating for 52 hours.
Ten of the twelve jurors in the sexual assault trial reportedly voted to convict the actor on two counts of aggravated indecent assault. However, two others on the panel stuck to their guns and didn't want to convict him, which resulted in a deadlocked jury.
There are also conflicting stories from the jurors.
Another juror told WPXI that jurors were more so split about whether he was quilty or not and said the votes were generally split -- 7-5 or 5-7 votes -- during the deliberations.
Hmmm…who do you believe?
Photo: Getty