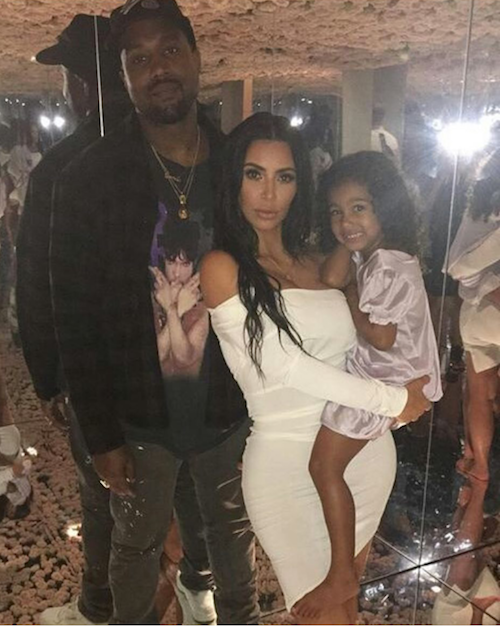 Since Mrs. West is in full throttle buy-my-ish mode, y'all already know what that means: "Leaks" about more babies and acting like besties with anyone with a platform take priority.  Because, publicity.
Deets inside on Kanye& Kim's new surrogacy hire, plus the arguably racist beauty guru Kim just linked up with....
Last night, Kanye West and adorable daughter North popped up on Kim at her KKW Beauty launch party she had with beauty gurus.  Before they snapped the pic above, though, kim came under fire for inviting and posing it up with guru Jeffree Star. 
If you're not all into the Youtube guru life, Jeffree is a singer and makeup artist and is also one of the largest beauty gurus.  He has his own cosmetics line grown out of having such a large following.  Now that his "star" has grown, many believe his true colors are showing all the way through lately.  He made some seriously racist comments 12 years ago while starting out, and they've haunted him ever since.  It doesn't help that he VERY recently came for our Beauty Guru faves Jackie Aina and Makeup Shayla -- two black gurus with huge followings -- referring to them both as "rats".
His convenient apology video that he posted the other day wasn't enough for most, considering he has said plenty of racist comments just in the last several months. And for Kim to have him at her launch says a whole lot.  Anything for sales, right?
Meanwhile, Kim and Kanye are allegedly gearing up for baby #3 via surrogate.  Kim has mentioned it on one of those Kardashian reality shows a few times that she wants a surrogate for her next kid.  While on previous episodes her doctor told her she's fine to have a baby herself, she's convinced it's dangerous so....surrogacy it is. Apparently, she has the potentially life threatening condition called placenta accreta.
TMZ reports today that the couple have officially hired the surrogate.  The parents of two are set to put down a $68,850 deposit with a surrogacy agency.
Here's how the rest of the contract & fees have been set up:
-- $45,000 in 10, $4,500 monthly installments

-- If there are multiples, the surrogate gets $5k for each additional kid

-- If the surrogate loses reproductive organs, she gets $4,000
The surrogate has plenty of rules to follow too, which is typical for the job:
The surrogate is required to refrain from smoking, drinking and drugs during the pregnancy. She also agrees to restrict sexual activities in the weeks leading up to the pregnancy, including foregoing sexual intercourse for 3 weeks following embryo implantation.

The surrogate cannot go in hot tubs or saunas, cannot handle or change cat litter, apply hair dye, drink more than one caffeinated beverage per day or eat raw fish.

The agreement provides that Kim and Kanye "assume the legal and parental responsibilities for any child ... that may possess any congenital or other abnormalities or defects."
The Carters can't be the only ones getting all this baby attention. 
If you're side eyeing the timing of this "announcement", so are we.
Photo: Snapchat