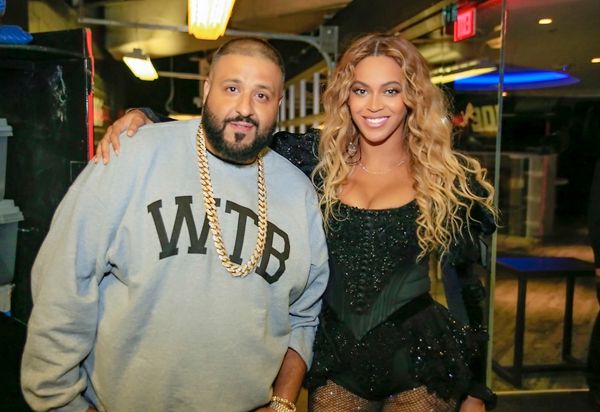 Ever wondered how DJ Khaled got Beyonce and Jay-Z on his "Shining" record? Find out the inside scoop, plus what Khaled had to say about his disastrous EDC performance inside….
We can't lie, when we first heard DJ Khaled's "Shining" track, we were wondering how did he manage to get Hip Hop royalty Beyonce AND Jay Z on the track.  Khaled just spilled all the details on how he did it.
When folks tell industry stories we're usually like, "Cool story, bro."  And uninterested AF by the name dropping.  But this one....we're here for it.
It all started one evening when Khaled went to have dinner at Nobu restaurant when he heard a song playing through the speakers.  As soon as he heard it, he knew he wanted to sample it for his next single. He whipped out his phone and used the Shazam app to find out the details on the original track.
Time goes by and he's in a meeting with Jay-Z to talk business when he decided to play him the record/instrumental. He saw Hov was vibing to the track, so he shot his shot and asked him to play the music for his wife Beyonce. He said Hov gave him a look like he was tripping and he responded,"Yo Jigga, trust me."
Khaled then links up with Jay Z at the Roc Nation Brunch and he felt someone grab his arm. Guess who it was? Bey! He revealed he still gets star struck by Bey,"I'm buggin' like…what the f*ck?"
Jay told him, "I really like that record" and Khaled tried to keep his composure. He said he didn't want to ask too many questions, so he left it at that.
The night before the 2017 Grammy Awards, Jay hit him up like,"The record is done." He said Jay invited him to his house where he played him the record. "I'm hearing Beyonce, I'm hearing Jigga," Khaled said. He said Hov was like, "We dropping this tomorrow night [the night of the Grammys]."
Khaled started freaking out because he still needed to mix it, throw his adlibs on it and clear the sample before releasing it. He said Jay asked him, "I know you're not tripping."  He had to get to work on the business side of things. He then started scrambling, hitting up his lawyers on a Saturday night to get the sample cleared. He got cleared on a Sunday (thanks to the power of Bey & Jay).
If he was looking stressed at the Grammys, it's because he was. He was still finalizing details from his seat.
Mr. and Mrs. Carter ended up approving the final track backstage at the Grammy Awards. They dropped "Shining" right after the Grammys that night and it was a HIT!
Check it at the 12:50 mark:
Speaking of Khaled...
Over the weekend, the Miami producer ended up getting boo'd during a performance at the 2017 EDC Festival in Las Vegas. But, it wasn't his fault. Khaled said his set was sabotaged.
They won't let Khaled be great!
The show must go on!
Photos: Beyonce.com