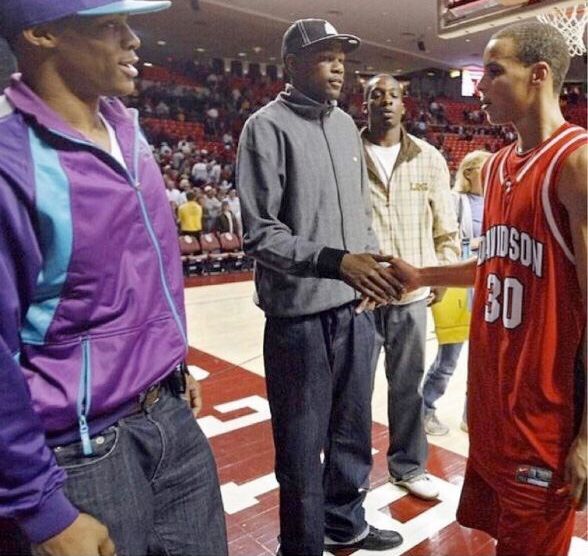 It's Flash Back Friday! And we've got a good one with Kevin Durant, Russell Westbrook and Steph Curry. In other sports news, Conor McGregor shaded the f*&# out of Floyd Mayweather after their fight was finalization. Get it all inside…
It's Flashback Friday—Sports Edition.
Russell Westbrook, Kevin Durant and Steph Curry circa 2008, looking EXTRA young.
Steph was a young college basketball player at Davidson College, Russell had just been drafted into the NBA and Kevin Durant was the 2008 NBA Rookie of the Year as a player for the Oklahoma City Thunder. As you all know, KD and Russell played together on OKC for several years before KD decided to join Steph and the Golden State Warriors.
Folks can hate all they want, but KD finally got a ring. And we're not mad.
Speaking of Kevin Durant,  Kevin Hart paid tribute to the NBA Finals MVP.  If you want to call it that.  He hckled him from the sideliens throughout the playoffs and finals.  Hilar.
Check it below:
Crazy!
In post NBA Finals news…
Cleveland Cavaliers player LeBron James is speaking out about against the talk that he started the so-called "superteam era" in the NBA. Draymond Green even said something about it recently.
During the "Road Trippin" podcast hosted by Cavs players Richard Jefferson and Channing Frye and sideline reporter Allie Clifton, King James spoke on the latest round of smack talk between himself and Warriors baller Draymond Green.
Draymond trolled Bron with a t-shirt mocking the Cavs early defeat in the Finals at the Warriors parade yesterday. While speaking, he declared, "You [LeBron James] started the superteam bro!" as he quoted LeBron's statement that he never played on a superteam.
Well, Bron responded:
"No. I mean in 2003, the Lakers combined Karl Malone, Gary Payton, Shaq and Kobe. And in '96, when Jordan was retired, the Rockets joined Charles Barkley, Hakeem Olajuwon and Clyde Drexler all on the same team. But I don't look at it as ... I definitely didn't start the superteam, if that's what he's trying to say. But I just feel like that it's great that on the day you're celebrating your championship, my likeness and my name is in your head. I love that."
Bloop!
In other sports news...
THE FIGHT IS ON. pic.twitter.com/KhW0u3jRft

— Conor McGregor (@TheNotoriousMMA) June 14, 2017
Boxer Conor McGregor has jokes!
The match between undefeated boxer Floyd Mayweather and UFC lightweight champion Conor McGregor has been finalized. It's going down August 26th at the T-Mobile Arena in Las Vegas.
Right after the announcement, Conor got on his petty steez to get in Floyd's head before the match. He posted a picture of himself next to a photoshopped pictured of Floyd's father in a Money Team hat with the caption, "THE FIGHT IS ON."
He also made fun of Floyd's age with this:
Ha! Let the games begin!
Photos: @aguynamedpharoah