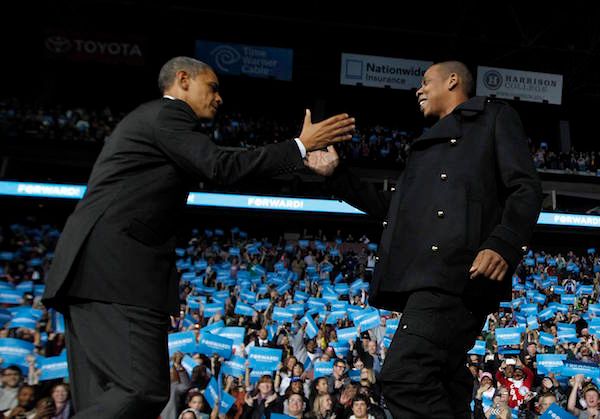 The Beyhive, stans, and the like just had a late night surprise in the form of a possible leak.  We can all thank Barack Obama for that. See what he just said about the Carter twins inside...
Former President Barack Obama inducted Jay Z into the Songwriters Hall of Fame Thursday night, making Hov the first rapper to nab that honor. But it's our Forever POTUS' induction speech that raised all the eyebrows.
While running off a list of reasons he and Jay have become the most unlikeliest of friends, Mr. O mentioned their love for their daughters saying:
"Jay and I are both fools for our daughters.  Even though he's going to have me beat once those twins show up."
Folks have taken that statement to mean Jay and Bey will be welcoming (or have already welcomed, if you believe the conspiracy theories) twin girls.  He could have just meant Jay would have him beat in the sheer number of kids to love on.
Who knows.  What we do know is that these Royal Twins need to gon' ahead and make their entrance.  This delivery has folks going crazy as all hell.
Here's what the dropbox link @S_C_ posted.
(My President) Obama inducting Jay into the Songwriters Hall of Fame pic.twitter.com/BVY7nVyDtz

— New Life (@LordBalvin) June 16, 2017
Photo: Reuters