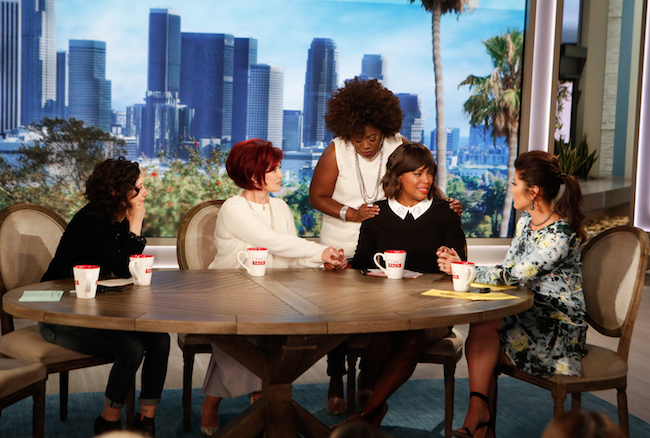 Comedian and host Aisha Tyler is OUT at "The Talk"! She emotionally announced the news live on the show today.  Details inside...
After co-hosting "The Talk" since its second season, actress and comedian Aisha Tyler announced that she will not return as one of the Emmy winning show's hosts next season.
The new divorcé revealed:
"At the end of this season I'm going to be leaving the show… I have had an amazing six years with you guys. We've had babies and weddings, and you know good things have happened, and you know I went through the biggest breakup of my life with you. I could not have done with this without you. I'll never be able to thank you guys enough…"
It's unclear if she was pushed out by the network or if she made the decision to leave on her own accord.  CBS did put out a praise-worthy statement saying she could return at any time:
"Saying goodbye to Aisha is a bittersweet moment for all of us at CBS Daytime and THE TALK," said Angelica McDaniel, Executive Vice President, Daytime Programs and Syndicated Program Development, CBS Entertainment and CBS Television Distribution.

Throughout her six seasons, she has made incredible contributions and shared personal moments, making our viewers, cast and crew all laugh, cry and think, as a result of her signature wit, intelligence and openness. It's no secret Aisha is one of the busiest women in entertainment, and we support her as she decides to focus more time on her passion for directing, her expanded role on CBS' CRIMINAL MINDS, hosting The CW's WHOSE LINE IS IT ANYWAY?, and her other endeavors... and maybe finally find some time to sleep! We love Aisha and she will always be a part of our family, with a seat waiting for her at THE TALK anytime she wants to visit."
Aisha will continue to appear through the remainder of this season, which wraps Friday, August 4. She also stars on the CBS series CRIMINAL MINDS, which returns this fall.
She posted this message after her announcement:
Photo: CBS