DeMario Jackson wants "Bachelor In Paradise" producers to release the footage to clear his name in this alleged sexual misconduct scandal involving fellow contestant Corinne Olympios. Get the latest inside…
Former "Bachelorette" star DeMario Jackson wants the producers of "Bachelor In Paradise" to release the footage that has caused so much controversy.  Filming for the show has been suspended for now, and possibly indefinitely.
The 30-year-old reality star believes the footage of his alleged sexual encounter with co-star Corinne Olympios will prove he's innocent and that he didn't do anything she didn't give consent for him to do.
In text messages obtained by The Post, he tells an unidentified person his side. Check it: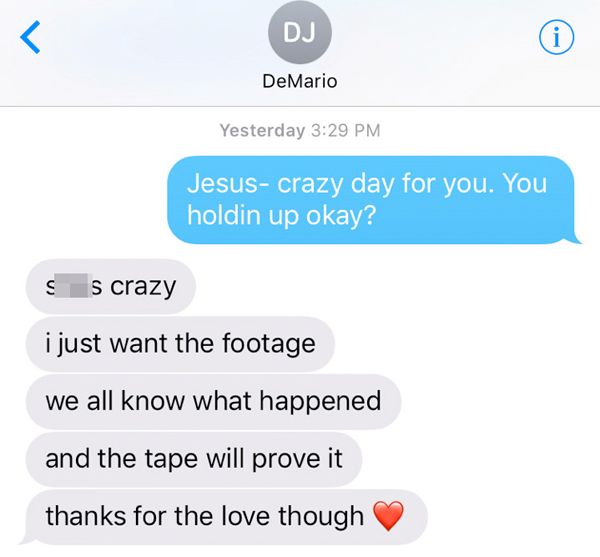 This all started when a field producer filed a complaint with Warner Bros. after DeMario and Corinne engaged in sexual activity in a pool while filming the fourth season of "Bachelor In Paradise" in Mexico. There are reports that Corinne claims she was too drunk to consent.  DeMario, Corinne (based on sources), and producers all have gone on record saying the two were completely drunk on the night in question.  DeMario claims she initiated sex.
Sources tell TMZ if DeMario can get his hands on the footage, he'll release it himself. If not, he's urging Warner Bros to release a copy. As we've told you before, sources who have actually seen the footage say it appears the situation was consensual.
"Bachelor in Paradise" host Chris Harrison issued a statement about the allegations saying:
By now no doubt you have heard that we have suspended production on this season's Bachelor in Paradise. I can confirm to you that this is sadly the case. Out of respect to all involved, there's only so much I can and will say at this time. Normally with a situation like this I would not say anything until the incident is fully resolved, but with all the rumors and misinformation being put out there I don't find that to be possible anymore.

Let me start by saying the safety and care of the cast and crew of our show is of the utmost importance to us. It is with this thought in mind that we made the decision to suspend filming. An investigation into the situation was started immediately. Warner Bros. is handling the details of that investigation. They're moving quickly to gather all the facts, and once that's done a clear concise decision can be made about where we go from here.

There are a lot of competing details in the various press accounts of the incident. And there's a lot of misinformation out there too. We urge everyone to be patient until the investigation is complete.

I know in this day and age we want and even expect immediate answers but in this case it's just not possible. So again I urge you to please be patient and respect the privacy of the parties involved. I will keep you as informed and up to date as I possibly can. We're sorry for any inconvenience and disappointment this may have caused the cast, the crew and our loyal fans. It is my sincere hope that we can come to a quick resolution on this and get back to work very soon.

Thank you Chris Harrison
DeMario has since lawyered up to stay on the safe side. And that's smart because there are reports that Corinne has hired an attorney and is said to be blaming producers for allowing the sexual encounter with DeMario go down.
'Bachelor in Paradise' Star DeMario Jackson Out with Friends Amid Controversy https://t.co/nMsHXIl9z2

— TMZ (@TMZ) June 14, 2017
Days after he returned from Mexico, DeMario appeared to be in good spirits while making his way inside of a bar in Long Beach with two women last night.
Photogs caught up with DeMario as he was leaving Caffe Primo in West Hollywood earlier yesterday to try and get some information out of him. He didn't say much, but it sounds like he doesn't harbor any ill feelings towards Corinne.
Check it:
In the clip below, he said Corinne is an "awesome girl" and that's all he had to say about the situation:
EXTRAS:
1. Corey Hawkins' Broadway stint in "Six Degrees of Separation" will end on Sunday. STORY
Photos: ABC/Page Six