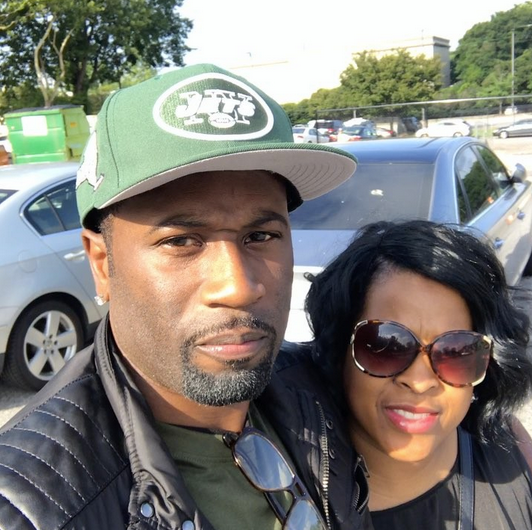 112's Q Parker, who is married, is in the middle of a cheating scandal where a woman was paid off in "child support" payments to keep quiet about an alleged love child. Now, it's all coming to light. More inside…
112 singer Q Parker has been secretly fighting a battle that involves an alleged 11-year-old love child. It's a cheating scandal at best because we all know he has been married to his wife, Sharlinda Parker, for quite some time.
While he's battling this "child support" situation in court, it appears his wife is standing by his side as they have been all loved up on social media. But, let's get to the tea on this "love child."
It's being reported by Bossip that Q is gearing up to take a DNA test to finally figure out if he's the father of 11-year-old Josiah Barnett. Q is claiming the child's mother, Leah Steele Barnett, tricked him into a child support agreement by threatening to spill the tea about his alleged son to Sharlinda.
Apparently, Q (who's real name is Quinnes Parker) has been making child support payments to Leah behind his wife's back for the past 11 or so years. She supposedly presented him with testing results that only identified genetic defects, not an actual DNA test to prove paternity.
"In our case, Ms. Steele used the results of this exam to pressure Mr. Parker into stipulating he was the father of her child and agreeing to a support judgment without the benefit of counsel," Q's petition says. "Moreover, knowing that Mr. Parker was married at the time if their affair, Ms. Steele used the threat of disclosure of such to Mr. Parker's wife and family as a method to induce Mr. Parker into consenting to support of her child."
Our question here is, if he didn't know if he was actually the biological father, why not find out FIRST before shelling out the cash? Let Q tell it, the woman blocked his attempts to have an actual DNA test done, but to that we ask…why pay until you know for sure if there was a question? Sighs…
"Ultimately, Mr. Parker is not looking to avoid responsibility if Ms. Steele's child is his," Parker's petition reads. "However, Mr. Parker simply wishes to base his support on trustworthy paternity results with a paternity agreement he is not forced into as a hostage of his marital situation and stature as an entertainer with assistance of competent counsel."
Q is requesting to have his child support payments reduced because his income doesn't reflect what's owed. The site went on to explain:
Besides questioning whether the baby was his, Q also filed a petition in court to drastically reduce the amount of monthly child support that he is required to pay. If he is indeed Josiah's dad, he wants the child support amount dropped from $2,250 a month to $309.27. Q argued in court papers obtained by BOSSIP that he can't afford the current child support amount because his income had gone way down.

Q claimed in court docs that he now makes $2,500 each month, while his alleged baby mama Steele Barnett was now bringing in more than $8,000. He argued that if he is the father, Steele Barnett should start paying $1,030 a month towards Josiah's upkeep.
A spokesperson for Q released a statement on the matter, saying Q and his wife have been working to strengthen their union and rebuild their family after his infidelity.
Like we said, it appears Q and his wife are trying to get past the cheating scandal, doing the most to prove their love for each other as they work through their issues:
Hey, if they can get past all of this, who are we to judge?
Photo: Q's IG