We.Are.Shooketh!  Marvel released its first promo image and the first official trailer for Black Panther.  They're EVERYTHING.  Pack your toiletry bag, we're headed to Wakanda....
Yessss!
Chadwick Boseman and a stacked roster of YBF stars are officially kicking off the promo campaign for the heavily-anticipated Marvel flick Black Panther.
Earlier today, the Marvel Universe unveiled the first official poster featuring Chadwick as T'Challa, claws and all.  And if the vibe it's giving feels familiar, it's because it is.
The similarities between the new poster and Black Panther Huey P. Newton's famous photo have not go unnoticed.  We see what you did there Marvel.  And we're here for it.
Tonight, during Game 4 of the NBA Finals, the teaser trailer finally dropped.  And it's everything we've been hoping for.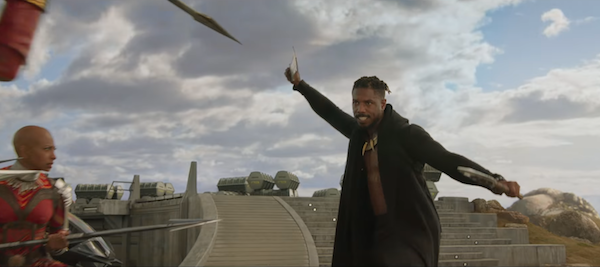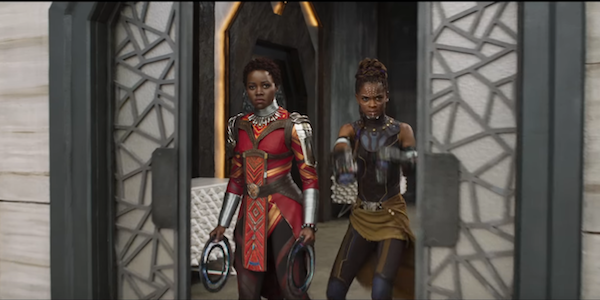 Danai Gurira, Lupita Nyong'o, Angela Bassett, Michael B. Jordan, Daniel Kaluuya and more suit up to tell the legendary story of the king of Wakanda, T'Challa. The superhero flick, which was shot for the last several months in Atlanta, is directed by Ryan Coogler.  It's set to drop right in time for Black History Month next year.
Marvel describes the storyline saying:
The film follows T'Challa (Boseman) who, after the death of his father, the King of Wakanda, returns home to the isolated, technologically advanced African nation to succeed to the throne and take his rightful place as king. But when a powerful old enemy reappears, T'Challa's mettle as king—and Black Panther—is tested when he is drawn into a formidable conflict that puts the fate of Wakanda and the entire world at risk. Faced with treachery and danger, the young king must rally his allies and release the full power of Black Panther to defeat his foes and secure the safety of his people and their way of life.
Get into the epic teaser trailer below:
The homeland's hero unleashes his claws February 16, 2018.