Now that we've all had a day to digest the tv gold that was yesterday's congressional hearing, let's discuss.  Former FBI director James Comey spoke before the Senate to clear his name in the Russian hacking drama. Everyone had something to say about it. Peep the best tweets from the Comey hearing inside….
The hearing of the century!
Yesterday, former FBI director James Comey blew the whistle on Trump possibly obstructing justice while giving back-story on his firing.  
While testifying before the Senate Intelligence Committee in the Hart Senate Office Building on Capitol Hill, tea was spille din the most professional way possible.
Comey revealed Trump pressured him into dropping the FBI's investigation into former National Security Advisor Michael Flynn (and indirectly, Russian interference in US matters). At one point, Comey reveals Trump demanded his loyalty (Trump said -- after kicking out Jared Kushner and Att. General Sessions -- he hoped Comey would provide him with loyalty).
He dished on their multiple interactions that went down in the first 100 days of his Presidency.  Something that is beyond unusual for the supposedly independent organization that is the FBI.  For reference, Comey met with his previous bosses Bush & Obama about 3-4 times total -- between them -- over a period of 16 years).
Well, Twitter was certainly tuned in and gave its unfiltered commentary. Below are the tweets that had us like "Yassss, say that!"
So Comey told Jeff Sessions he didn't want to be alone with Trump. Women across the country can relate.

— Maxine Waters (@MaxineWaters) June 7, 2017
They messed w/ the wrong super tall aw-shucks prosecutorial type-A nerd. Cause Comey don't play that. #takenotes#ComeyHearing

— shonda rhimes (@shondarhimes) June 8, 2017
Women should feel vindicated by the #ComeyHearing. Comey says "I felt uncomfortable around Trump." Women say to Comey "Welcome to our world"

— Doctor #Covfefe (@ShomahKhoobi) June 8, 2017
It's clear that President Trump fired former FBI Director James Comey because of the Trump-Russia investigation. #ComeyHearing

— Sen. Al Franken (@SenFranken) June 8, 2017
My main take-aways from #ComeyHearing: trump is a liar who obstructed justice. GOP is in denial; McCain is confused and needs to be retired.

— Mae T. (@mspoint1106) June 8, 2017
If only these Republican Senators would be as tough on Trump as they expect Comey to have been. #ComeyDay#ComeyHearing#CountryOverParty

— Margo Jones (@3DTruth) June 8, 2017
John McCain sounds like when your meemaw start mixing up real life with what happened on Matlock.

— king crissle (@crissles) June 8, 2017
Your POTUS has to be babysat to keep him distracted from his twitter....................... he's 70 https://t.co/g4nXeZRlJk

— Magnolia Jeaux (@JoeOnDemand) June 8, 2017
"lordy I hope there are tapes" is the old white guy equivalent of "i wish a bitch would"

— Ziwe (@ziwe) June 8, 2017
Me rooting for Comey while knowing the corruption of the FBI pic.twitter.com/nzbyc3st9V

— Lawrence of Suburbia (@iamtjones) June 8, 2017
Loving my seats at the #ShitJustGotRealTour#ComeyDaypic.twitter.com/C5tqJiFzAw

— Matthew A. Cherry (@MatthewACherry) June 8, 2017
'Lordy', 'contemporaneous', and 'recuse' still in our top lookups.https://t.co/IgqOb5hPN2https://t.co/8QeujLT4Wrhttps://t.co/ud9vvMo1tM

— Merriam-Webster (@MerriamWebster) June 9, 2017
Committee made up of mostly white men in administration of mostly white men blame a woman for actions of a white man #comeyday#comeyhearing

— Shannon Watts (@shannonrwatts) June 8, 2017
The party refusing to stand up to Trump has spent the #ComeyHearing asking Comey why he didn't stand up to Trump more forcefully.

— Miranda Yaver (@mirandayaver) June 8, 2017
Comey opens by telling us what we know: Trump told him one thing and did something different. He lied...like he always does. #ComeyHearing

— a. rye (@angela_rye) June 8, 2017
My main take-aways from #ComeyHearing: trump is a liar who obstructed justice. GOP is in denial; McCain is confused and needs to be retired.

— Mae T. (@mspoint1106) June 8, 2017
"There should be no fuzz on this whatsoever. The Russians interfered in our election during the 2016 cycle."#ComeyHearing#TrumpRussiapic.twitter.com/nlGOr24E8N

— Bryan Dawson (@BryanDawsonUSA) June 8, 2017
Comey to Honeysuckle Lenin: Drop your lil' tapes, lying ass bitch. #ComeyDay

— Michael Arceneaux (@youngsinick) June 8, 2017
And then these tweets: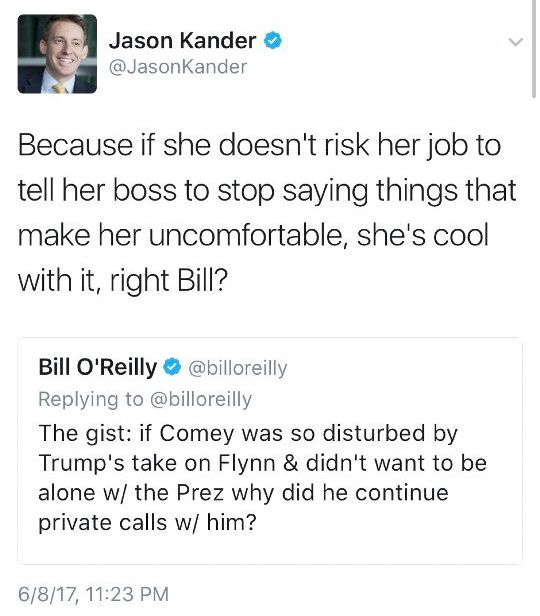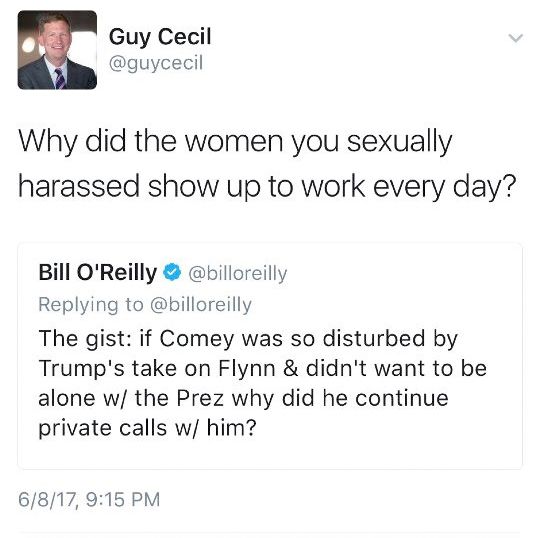 Bloop!
Sound off in the comments on what you thought about the #ComeyHearing!
EXTRAS:
1. Compton residents can continue to call Aja Brown their mayor after she beat out former Compton mayor Omar Bradley in a landslide. https://lasentinel.net/brown-wins-by-a-landslide.html ">STORY
2. Activist Chokwe Antar Lumumba wins Jackson, Mississippi mayoral race with 93% of votes. STORY
Photo: Getty