We have some hot tea for you this Saturday morning. Grab you mugs and get into the details about First Lady Melania Trump allegedly cheating on No. 45 with a security guard inside…
Well, look what we stumbled upon.
Playwright Monica Bryne had time this week, so she was spilling all of the juicy tea.
Monica said she was told by a source (that she can't reveal) that First Lady Melania Trump is getting it in with the head of security at the Tiffany's inside of Trump Tower. Oh? Would that explain why she's not interested in public affection with her husband, Donald Trump? Pictures of them holding hands and actually looking happy is very rare, so we wouldn't be surprised if this was a staged photo-op to combat rumors about their strained marriage.
Anywho, Monica said the source claims Melania and the security guard have been having an affair for years and that Trump knows about it. Melania and Trump allegedly had an agreement where if he lost the election, they would get a divorce. Welp, that didn't happen so she's stuck, for at least another four years.
Monica even posted up a picture of Melania's alleged sidepiece and @'d them both on Twitter, asking about the affair. Savage!
All we know is, if this is true, our tax dollars that go toward securing all of Trump Tower in NYC need to be reconsidered.  Ain't nobody trying to fund Melania's side peen.
Oh, and remember that Tiffany's gift Melania brought to former First Lady Michelle Obama on Inauguration Day (above)? *squints eyes & purses lips like Michelle* We see you girl....
Peep the tweets (in chrono order):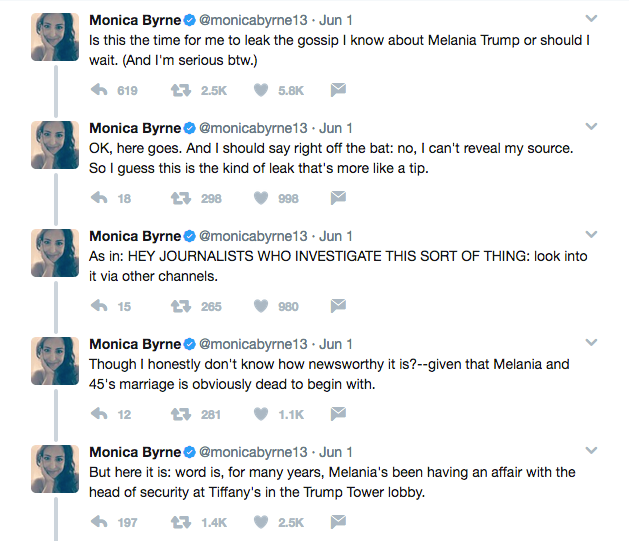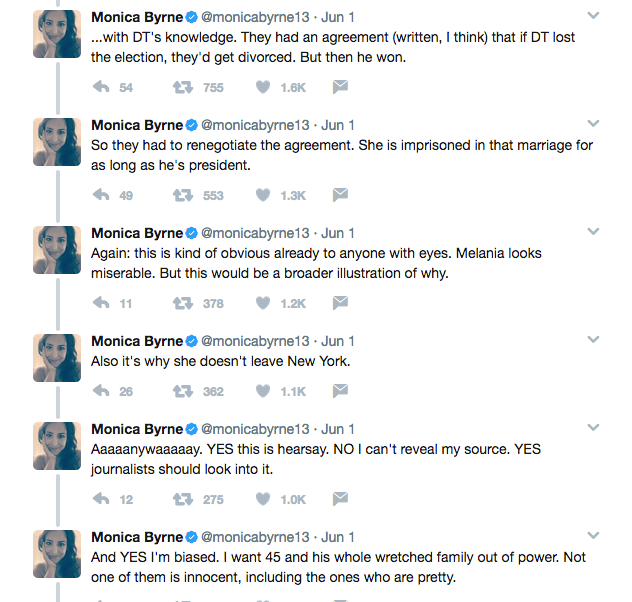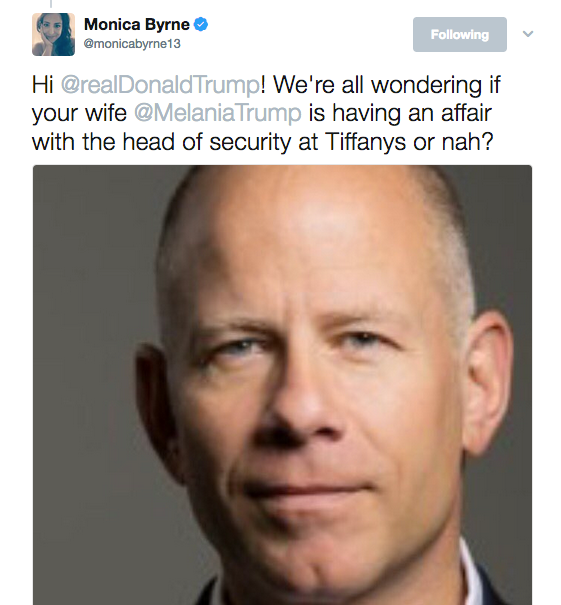 Chile...
Y'all believe it or nah?
EXTRAS:
1. "There's a bunch of old white guys trying to silence me!", Kathy Griffin says after the controversial Trump photo drama.  Oh girl... STORY
Photo: Getty