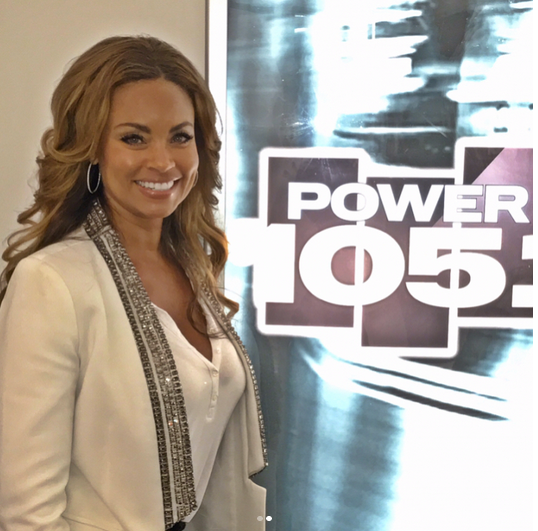 Gizelle Bryant addresses the rumors that Phaedra Parks was hooking up with her ex-husband Jamal Bryant. Meanwhile, her co-star Ashely Darby finally stands up to her controlling husband that resulted in a heated exchange between the two. Get it all inside…
In case you were wondering, Pastor Jamal Bryant is not "RHOA" star Phaedra Parks' "Mr. Chocolate." At least, that's what he told his ex-wife/"Real Housewives of Potomac" star Gizelle Bryant.
The reality star, who is supposedly about to drop a makeup line, stopped by Power 105's "The Breakfast Club" recently to lay the Mr. Chocolate rumors to rest. It was speculated that Phaedra was hooking up with a man, dubbed Mr. Chocolate. Despite his true identity ever being revealed, it was rumored to be her megachurch pastor ex.
Gizelle confirmed that Jamal told her he was NOT Mr. Chocolate.
"That is the word on the street," she explained."He [Jamal Bryant] has categorically denied he was Mr. Chocolate. He has denied that. He said that the only TV personality he has ever been in a relationship was me."
As for why Gizelle sees to be shading newcomer Monique into eternity this season, she claims it's because Monique showed up in the middle of already ongoing drama, and she (Gizelle) has a problem with multitasking. Gizelle made sure to assert that she is NOT jealous. Hmph. As for her friendship with Charrisse that we thought was back on track, apparently it isn't. Gizelle spilled all of her frenemy's tea saying Charrisse is NOT divorced, no paperwork has actually been filed, and she has not been celibate for 2 years like she said on the show. Bloop! As for her own fail of an 8-year marriage, Gizelle said she left Jamal one year after the affair because cheating was a lifestyle for him, and not a one time thing.
Well there you have it.
The hunt for the real Mr. Chocolate continues.  Gizelle also
In other Potomac news...
On the last episode of "RHOP," star Ashley Darby got into a heated discussion with her husband Michael Darby over her new restaurant. It went viral.  People have all types of opinions about a woman going from being a kept wife to attempting to have say in her husband's business (that he likes to tell her is hers).
The new venture has caused a strain on their marriage and things came to head during Sunday night's episode where the two let each other have it outside. He told her he would be closing her new restaurant and she finally realized that he really holds all of the power in their relationship.
Peep the heated clip above.
Although Michael made threats to close the restaurant, the Australian eatery, Oz, is still up and running. Mr. Darby revealed to ARLNow that the restaurant is open and doing quite well.
"We made a significant change that has brought about the success we're having now," Michael Darby said. "Over the course of the show, you will find that the restaurant turns that corner and becomes the busy restaurant we have today."
Ashley also commented on the success of the restaurant saying, "America witnessed my candid reaction to the growing pains we were experiencing at Oz during the RHOP premiere, filmed last year," she said. "It has taken some time to find our groove in the trendy Clarendon neighborhood, but we're really getting into the swing of it. Our weekends are so busy I barely get time to sit down."
So there's that. We wonder if Ashely and Michael mended fences in their marriage.
Photo: Gizelle's IG