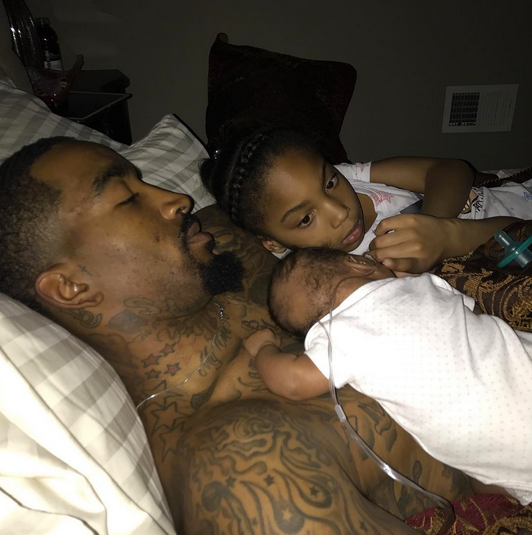 J.R. Smith has more than one reason to smile. The NBA star and his wife brought their daughter Dakota home this week.  And it's the miracle we've all been waiting to see.  The adorable shot inside…
Cleveland Cavaliers baller J.R. Smith is beaming with joy after bringing home his prematurely born baby girl Dakota after a four-month stay in the hospital following her birth.
The NBA player and his wife, Jewel, brought their miracle baby home yesterday and J.R. shared an intimate photo of his baby girl resting on his bare chest while Dakota's big sister gazed at her. He captioned,"#wcws @jewey808 (My big WCW)."
Baby Dakota was born five months premature weighing in at one pound (making her a micro preemie) and she was immediately rushed to the NICU. It's been quite the journey for the couple who have shared the ups and downs with their fans along the way.  Dakota had a long journey to stable health, and the fam finally sees the light!
Thankfully, 'Kota (as her dad calls her) was released from the hospital yesterday weighing a health 7 pounds 5 ounces. She joined her big sisters, Demi and Peyton.
Aww! Congrats!
Photo: J.R.'s IG