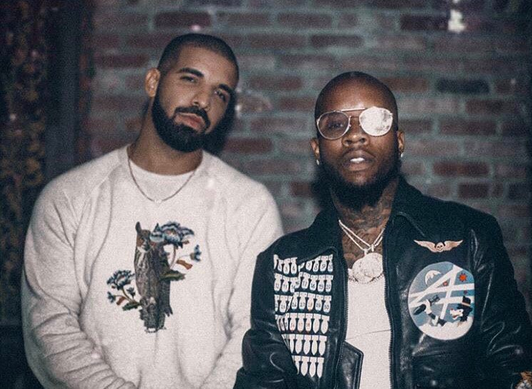 What's beef? There is none…anymore. Find out how Drake and Tory Lanez and Treach and Wack 100 squashed their beefs inside…
If you watched the 2017 Billboard Music Awards then you know Drake is on his "spread love" vibes these days. Before he publicly squashed his beef with Ludacris, Drizzy ended his feud with fellow Toronto rapper Tory Lanez.
The two have been at odds since 2015 after Tory called out the Young Money rapper for referencing their hometown, Toronto, as "The 6." Drake fired shots at Tory on waxand Tory has fired shots at Drizzy on tracks and social media.
But, that's all behind them now.
According to TMZ, friends of the rappers orchestrated the peace meeting. One of Drake's friends called up one of Tory's friends and they got the rappers on the phone to hash out their differences. Then, all was right with the world.
The picture above was posted on both of their Instagram pages. Drizzy captioned,"The city needs more of this and less of that. 6" Meanwhile, Tory captioned,"Toronto... I Told You @Midjordan"
Well, good for them. It's all love between the Toronto natives.
In another rap beef...
Beef between Treach and rap manager Wack 100 sparked when Treach came to Tupac's defense after Hot 97 radio personality Funkmaster Flex made controversial comments about the late rapper.
You'll recall, Flex made claims that Pac accidentally shot himself in the leg at Quad Studios in 1994. He said if Pac hadn't lied about the shooting, the Notorious B.I.G. would still be alive.
Treach popped off on Flex and went in on Wack 100 for speaking ill of Pac. Wack 100 didn't take to Treach's comments, so he called Treach out, even calling his mom a "b*tch."
Check it:
Sheesh! Fightin' words.
Days later, Treach hopped on Instagram to offer up an apology and confirmed he and Wack 100 had made peace. Check it:
Well good for them.
Photo: Drake's IG