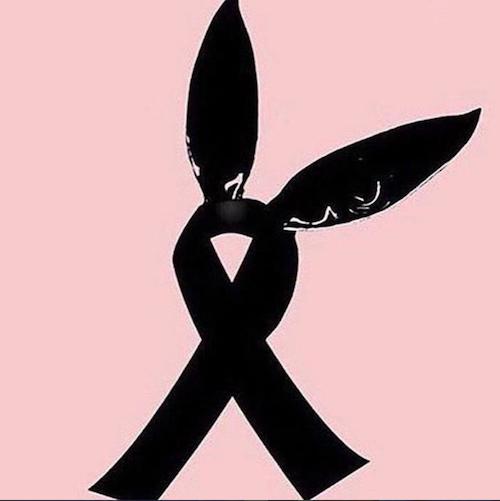 Hours after a horrific bomb exploded at Ariana Grande's concert in Manchester, 22 have been confirmed dead and The Islamic State terrorist group has claimed responsibility.  Details inside, including an outpouring of celebrity love and support for the victims...
Late last night, news broke that an explosion at the iconic Manchester Arena near London had killed and wounded a vast number of people.  Based on witness accounts, Ariana Grande's Dangerous Woman concert was ending and many were leaving the venue when an explosion -- which we now know happened near the entry of the arena -- shook the ground and lit up the arena.
EXPLOSION AT MANCHESTER ARENA AND EVERYONE RAN OUT SO SCARY pic.twitter.com/pJbUBoELtE

— (@hannawwh) May 22, 2017
Screaming, running, and even some trampling ensued with people attempting to escape the 21,000-seat arena as quickly as possible.
It has been confirmed as of this morning that 22 are dead, 59 wounded, and The Islamic State has claimed responsibility for the horrendous, cowardly act that involved nails being shot at high speed.  Blood was reportedly everywhere with the wounded strewn about.
Allegedly, the British authorities do know the identity of the bomber but are not yet releasing the information.  They also reportedly were tipped off previously about the bomber's involvement in a terrorist group.
The Guardian reports:
Greater Manchester police have confirmed that they believe the bombing was the responsibility of one man armed with an improvised explosive device. The man is among the dead.
It's disgustingly sad that one of the most vulnerable groups -- kids and teens attending a pop concert -- was targeted (directly or indirectly).  Many of the fatalities are very young and deemed "soft targets".
The Telegraph reports:
The first confirmed fatality was 18-year-old sixth form student Georgina Callender, an Ariana Grande "superfan" from Lancashire who met her idol in 2015 and was excited to see her on stage last night.

An eight-year-old girl, Saffie Rose Roussos, was also confirmed as having been killed after becoming separated from her mother and sister.
Incredibly sad.
While Ariana herself is physically unharmed, she is understandably emotionally distraught, in hysterics and inconsolable. She has postponed her tour. She reportedly told her team she can't even think of performing after what has happened to her fans. She tweeted last night:
broken.
from the bottom of my heart, i am so so sorry. i don't have words.

— Ariana Grande (@ArianaGrande) May 23, 2017
Celebs, including Drake who just left Europe on his recent tour, have shown an outpouring of love and support for the artist and the victims of this tragedy.
These are some of the faces of the kids missing, please contact
Emergency: 01618569400
If you see them. Let's get them home. pic.twitter.com/tg4Ubu6dfj

— Cynthia Erivo (@CynthiaEriVo) May 23, 2017
Religion is frequently used by powerful organizations to control people ...fear of the unknown & terror have controlled masses for centuries

— OldMan Ebro (@oldmanebro) May 23, 2017
Whomever would put a bomb near kids anywhere let alone an Ariana Grande concert is a different type of evil...

— OldMan Ebro (@oldmanebro) May 23, 2017
Our hearts are with Manchester #PrayForManchesterpic.twitter.com/bGtbZvSBfw

— Roc Nation (@RocNation) May 23, 2017
Remember the thrill of your very first concert? The buzz of the crowd. The music loud. A place to trust. To be free. Not this. #Manchester

— Ava DuVernay (@ava) May 23, 2017
"And then all that divided them merged" J. Chicago sending my prayers to the people and families lost to the violence in Manchester pic.twitter.com/dKhThUtnf2

— Yara shahidi (@YaraShahidi) May 23, 2017
Saddened to hear about the attack in Manchester. My heart goes out to the victims & their families, those hurt and those who witnessed it

— Nathalie Emmanuel (@missnemmanuel) May 23, 2017
While many parents are still desperately searching for their children, there are fraudulent missing people reports being circulated, so please beware.
.@twitter Pls STOP trolls posting fake victim pictures #Manchester#ManchesterBombingpic.twitter.com/vfERM4IprG

— Chanson d'automne (@Rogue_Eyre) May 23, 2017
This isn't even funny... why make a joke of this? https://t.co/CJ8WnSL59j

— Skai Jackson (@skaijackson) May 23, 2017
Our hearts and prayers are with all those affected in any way by this horrific occurrence.
Photos: Instagram