YBF GRADS are slaying everywhere!  We've got a graduation round up that includes Janelle Monae receiving an honorary doctorate from Dillard University, Oprah congratulating the young ladies for graduating from her Leadership Academy and Viola Davis celebrating her niece receiving her college degree. Get it all inside…
On Saturday, Janelle Monae received an honorary doctorate's degree of humane letters from HBCU Dillard University. And she was also tapped as the keynote speaker during the commencement.
During her speech (which was her first ever commencement speech), the WONDALAND honcho dropped some gems on the 166 graduates seated in the audience.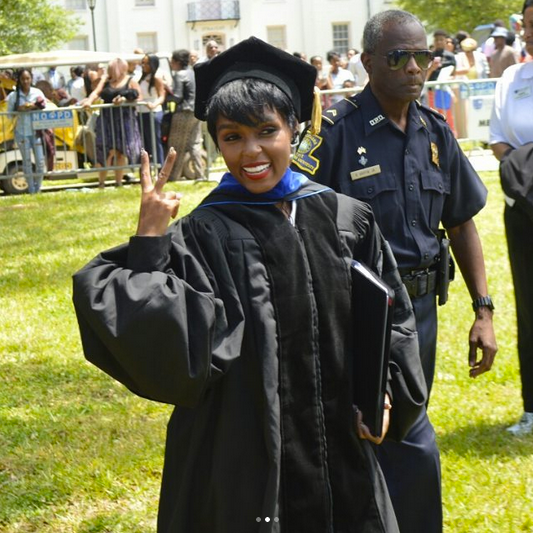 "No. 1, the importance of being gracious. No. 2, the importance of being proud. No. 3, the importance of choosing freedom over fear," she said."Today, you all are the ones at the end of that line. But in all that we do, we must be gracious and be thankful for each and every person who's helped put out that fire. I celebrate you."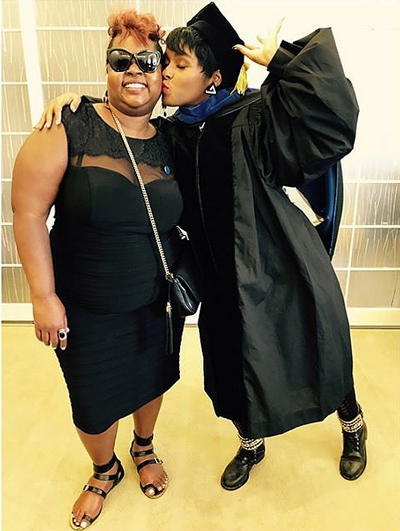 The "Electric Lady" did not graduate from college, but that didn't stop her from reaching all of the goals she had set out for herself. She is the daughter of a janitor (her mom, pictured above) and a sanitation worker. Watching her parents work hard everyday instilled in her that hard work eventually pays off.
"I never thought that I would see the day…. When I would be getting an honorary degree," she shared.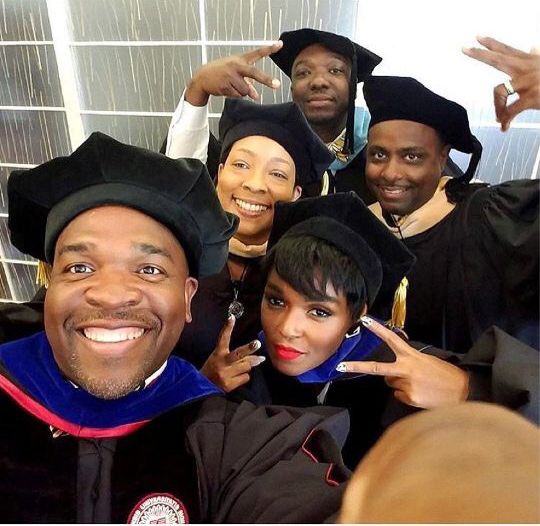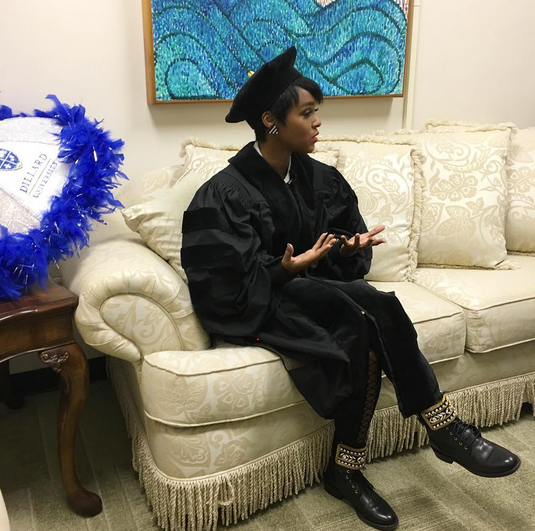 The singer/actress urged the graduates to remember those who came before them that paved the way for them to attend college. She used the example of Mary Jackson, the woman she played in Hidden Figures. Ms. Jackson petitioned a court in a Virginia court in order to take classes at an all-white school.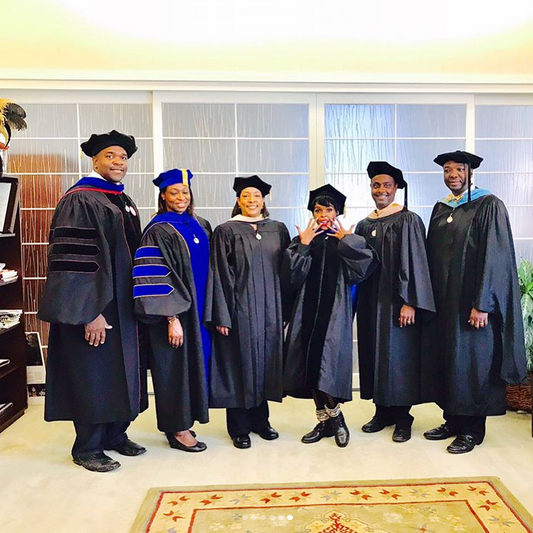 "She [Mary Jackson] stood before that white judge with so much courage and determination to challenge the system. She saw freedom and she went for it. She grabbed it by the neck and she just wouldn't let up. That's how we – me and you- can escape the gravity of fear, making us free to soar wherever our hearts and minds so desire."
Nice!
Check out her full speech below:
On Instagram, Janelle expressed her gratitude, while dedicating her degree to her family and to everyone striving to do better:
Yesterday was special. Honestly... I never thought I'd see the day that I'd be receiving an honorary doctorate's degree of humane letters from such a prestigious HBCU like Dillard University. Almost didn't accept out of fear and doubt; thinking I needed to be a specific type of person to receive such a high honor.

I accept this honor in the name of my family; my grandmother who was a share cropper in Mississippi, had 12 kids, and never got an opportunity to get a higher education. I accept this honor in the name of my parents who worked as janitors, post office workers, and garbage collectors serving the community PROUDLY, but never got a chance to fully pursue a higher education.

This one is for my family.

AND this is for all the young people: the artists, the protesters, the writers, the teachers, etc all striving to be better and do more for the community through your writing, through your music, through your mentoring, through the arts, & through whatever gifts you may have!

Thank you to President Walter Kimbrough, The Faculty & Board of Trustees, students, and everyone involved with making this decision. I have a lot more growing and learning to do as evolve as a student of life. I hope to make you proud. I'm 4EvA Eva Eva proud to be a part of the Dillard University Family! With love,

Lil Dr. Monáe ;-)
Congrats Janelle!
At another graduation ceremony...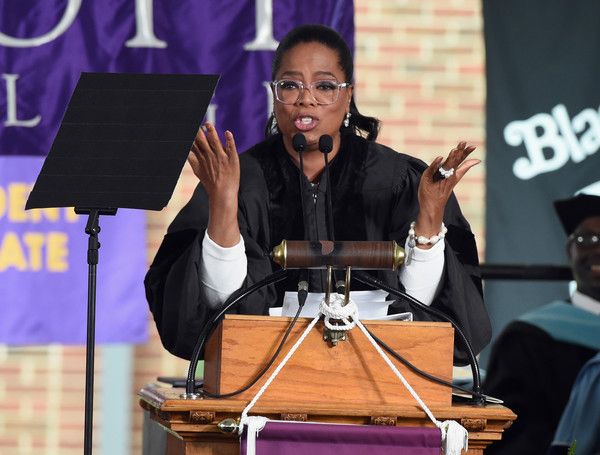 Oprah jetted to Decatur, GA to congratulate one special young lady from her Leadership Academy for Girls.
The media mogul was tapped to give the commencement speech at Agnes Scott College and while she was ecstatic over the graduating class, there was one college graduate very close to Lady O's heart.
One of the graduates, Sithokomele P. Mabaso, from the Oprah Winfrey Leadership Academy for Girls in South Africa was receiving her bachelor's degree. And Mama O was beaming with joy.
"My daughter girl has had the great privilege of growing and blossoming here at Agnes Scott," she told the crowd during her speech.
Aww!
"The struggle is real out there," she continued. "The struggle to remain compassionate and the struggle to remain committed and the struggle to constructively engage – that's the struggle that you're in for class of 2017. But I'm betting on you. Agnes Scott women, I'm betting on you."
Congrats to Sithokomele! 
At another college graduation...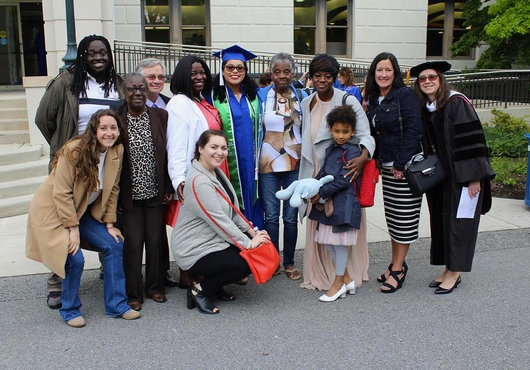 Viola Davis is a busy lady, but not too busy to celebrate her niece, AnnaBella Grant, receiving her degree from American University. The "How To Get Away With Murder" actress and her daughter Genesis (styling in her heels) were all smiles as they snapped it up with the new family graduate.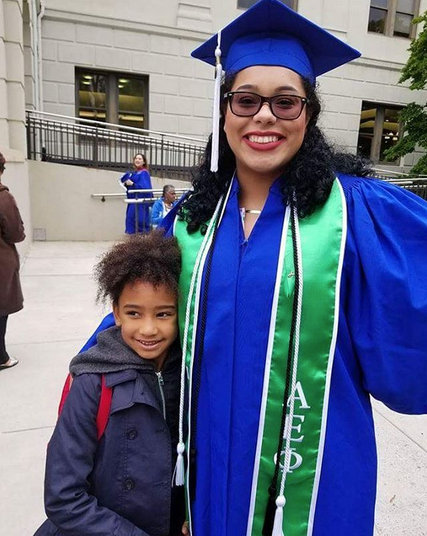 Aww. Congrats to Viola's niece!
Photos: Getty/Brett Duke/L. Kasimu Harris/@hbcupridenation/@ annabellagrant/@divah_filez