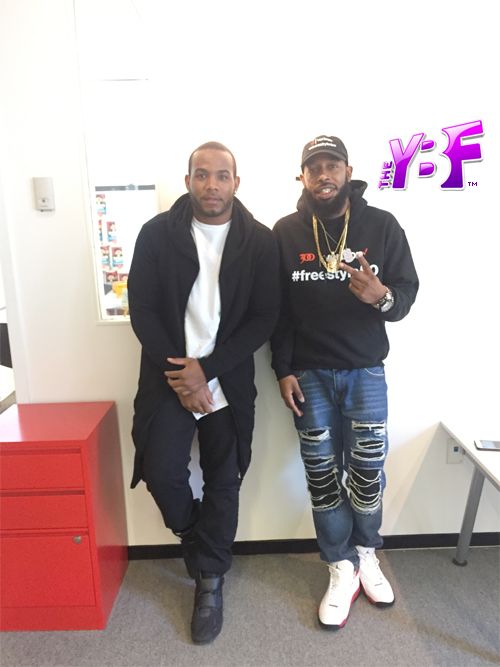 Tre' Da Kid is Hip Hop's newest emcee after nabbing the #FreeStyle50 rap battle crown. TheYBF.com chopped it up with the newcomer and he dished on why both Jay Z and Nas are the best rappers alive. Plus, he also talked about how he wants to bring that old school Hip Hop feeling back through his music. Get it all inside…
Tre Da Kid is ready to take the Hip Hop world by storm.
The Annapolis native was crowned as the rap battle king after competing in Verizon's #FreeStyle50 challenge, beating out thousands of competitors. He won a recording contract with Kevin Liles' 300 Entertainment label, a $10,000 grand prize and the opportunity to tour with R&B crooner Trey Songz.
Now, he's ready to make his mark in the Hip Hop world.
TheYBF.com's NYC correspondent James Turner sat down with Tre Da Kid to chat about his musical inspirations and who he feels is the best rapper alive. While Jadakiss is his favorite rapper, he said Jay Z and Nas both hold the crown as the best rappers alive, but for different reasons.
"I'm a rapper's rapper, he told TheYBF.com. I think Nas is the best rapper ever. I think Jay Z is the best rap artist ever. If I was on the street corner and I wanted to hear somebody kick something, I would ask Nas. But, if I wanted a complete body of work, I'm going with Hov all day. Everything behind his name is gold or platinum."
Makes sense.
Tre' touched on the quality of today's rap music and he said he doesn't think it's all bad, it just doesn't have any feeling behind it. He wants to be the guy who brings feelings and emotions through his music.
"I want to bring the essence back to Hip Hop," he explained. "I want to be that dude responsible for bringing that feeling back. The music today is not bad to me, it just doesn't have any feeling to it. I can't always turn up. Sometimes we get sad, sometimes we want love. I just think that's what's missing in Hip Hop."
He makes some very good points about wanting to bring different emotions to his music. We go through different emotions on a daily, and most times you want to listen to music that reflects how you're currently feeling.
Sounds like Tre' Da Kid is going to be bringing some musical heat soon and we're excited about it. Take a listen to his first single "Run It," featuring TK Kravitz below: